Pet Podcasts
Check Out






Susan Daffron
Founder, National Association
of Pet Rescue Professionals



Mia - A Long-Haired Feline Love Bug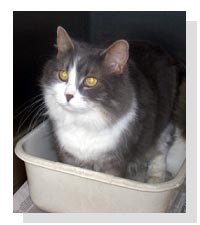 .........
Mia

Susan Daffron talks to Angie Platten from the Prince William SPCA in Virginia about a cat named Mia who is available for adoption. Recently, the Prince William SPCA teamed up with the Prince William County Animal Shelter for a "Home for the Holidays" pet adoption campaign. From Thanksgiving through New Years Eve, 204 pets were adopted (94 cats and 110 dogs). Unfortunately, a beautiful cat named Mia wasn't one of them, so she is still looking for a home. Mia was dropped off because her previous owners had a new baby. The baby's constant crying was stressful for Mia, who stopped using her litter box. However, since arriving at PWSPCA, she has shown no evidence of stress at all.
In fact, she's been a complete "love bug" and wants to be petted by everyone, even Angie's 7-year old. Mia has gorgeous gray long fur that is extremely soft, which coupled with her loving nature makes her an ideal "lap cat." She adores attention and would enjoy being brushed regularly. Because she doesn't like loud noise (like crying babies), she probably would do better in a home with older kids. Because she's an adult cat, she also doesn't mind being by herself, so she might be a great cat for a professional who has to be away at the office all day, but wants to come home to an affectionate furry friend every evening.
Questions or Comments? Send them to: SusanD@petliferadio.com.


Transcript will be available shortly.