Pet Podcasts
Check Out






Susan Daffron
Founder, National Association
of Pet Rescue Professionals



Danny & Eugene - Two Great Kitties That Go Great Together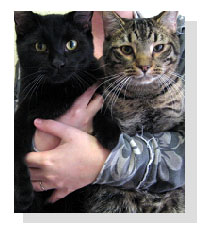 .........
Danny and Eugene...................,,,,,,,,,,,,,,,,,,,,,,,,,,,......

Susan Daffron talks to Asha Ellison from Cane's Crossing in Florida about two kitties named Danny and Eugene that are available for adoption. Cane's Crossing is a vet clinic that also rescues homeless pets. Danny and Eugene were part of a litter of 11 kittens that were left in a box on the clinic's doorstep. Although their feline siblings have been adopted, Danny and Eugene are still waiting. The pair has now been at the facility for more than seven months, so they are about a year old.

Danny is a beautiful playful outgoing solid black cat, and Eugene is a gray tabby with expressive yellow eyes. Although he is friendly, Eugene is a bit more reserved than his brother. Their personalities actually complement each other nicely. Because the two cats have grown up together, they have bonded and the folks at Cane's Crossing are hoping that they can be adopted into the same home so they can stay together.
Questions or Comments? Send them to: SusanD@petliferadio.com.


Transcript will be available shortly.