Pet Podcasts
Check Out

Susan Daffron
Founder, National Association
of Pet Rescue Professionals



Lobo - A Big, Mellow Dog Who Loves Kids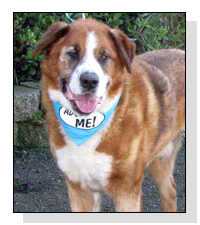 .........
Lobo..................,,,,,,.,,,,,,,,..

Susan Daffron talks to Carie Broecker from Peace of Mind Dog Rescue (POMDR) in California. POMDR works with both senior dogs and senior people. They specialize in finding homes for older homeless dogs or dogs whose owners can no longer care for them because of illness, death, or other circumstances. Lobo is an 8-year old Saint Bernard/Golden Retriever mix who weighs about 75 pounds. He is quite a bit smaller and has shorter fur than a Saint Bernard. Lobo came to POMDR with his 14-year old father Kaiser after they lost their home because of foreclosure. He was very bonded to Kaiser, but unfortunately Kaiser passed away a few months ago, so now Lobo is alone.
Even though he doesn't have his buddy anymore, he's adapting and Lobo is still a happy older dog who particularly enjoys being around children. In his past life, he probably was an outside dog, so he would do best in a home with a doggie door or slider to a fenced yard, so it's easy for him to go outside when he needs to. Although he hasn't had a lot of obedience training, he's a smart boy who loves food, so he should be easy to train. Contrary to the old saw, old dogs can new learn new tricks! This sweet goofy older guy deserves a second chance at love. If you love big mellow dogs, check out his pictures and his smiling face.
Questions or Comments? Send them to: SusanD@petliferadio.com.
Tweet

After you purchase your Infoseed™ you will be taken to the form to upload your copy.
Click here for more information about our Infoseeds™


Transcript will be available shortly.