Through Hell's Aquarium—and Back—with Best-Selling Author
Steve Alten!
What is the biggest and baddest aquarium you've ever seen? How about the biggest and baddest fish? Best-selling author Steve Alten blows all of those out of the water, with his latest sci-fi horror novel, "MEG: Hell's Aquarium." In this 4th installment of Alten's MEG series, we learn more about Carcharodon megalodon--MEG, for short--the enormous, prehistoric relative of the great white shark, and what could happen if they were still around prowling the oceans—or on display at some of the largest aquaria in the world!
Join us, as we talk with Steve about MEGs and mega-aquaria, other prehistoric and predatory denizens of the deep waters of the Philippine Sea Plate, Bond 007 girls, and his Adopt-An-Author program for teen readers.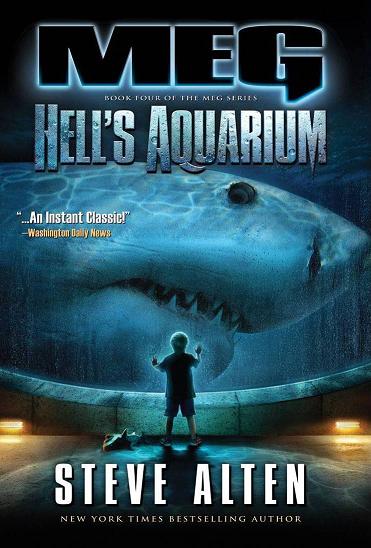 A native of Philadelphia, Steve Alten earned his Bachelors degree in Physical Education at Penn State University, a Master's Degree in Sports Medicine from the University of Delaware, and a Doctorate of Education at Temple University. Struggling to support his family of five, he decided to pen a novel he had been thinking about for years. Working late nights and on weekends, he eventually finished MEG: A Novel of Deep Terror. Steve sold his car to pay for editing fees. On September (Friday) the 13th, 1996, Steve lost his general manager's job at a wholesale meat plant. Four days later his agent had a two-book, seven figure deal with Bantam Doubleday.

MEG was very successful at the 1996 Frankfurt Book Fair, where it eventually was selected for distribution to twenty countries. MEG hit every major best-seller list, including #19 on the New York Times list (#7 audio), and became a popular radio series in Japan. Steve's second release, The TRENCH (Meg sequel) was published by Kensington/Pinnacle in 1999 where it also hit best-seller status. The third installment in the series, MEG: Primal Waters was published in the summer of 2004. The fourth book in the series and Steve's ninth novel, MEG: Hell's Aquarium, is considered to be the best of the best-selling MEG series.

In addition to the MEG series, Steve has written numerous other best-sellers, including DOMAIN, RESURRECTION, GOLIATH, The LOCH, and The SHELL GAME. GRIM REAPER: End of Days--to be released this coming October -- is a modern-day Dante's Inferno in NYC, after a manmade plague strikes Manhattan. Steve considers this his best novel. Steve has also penned screen plays, a reality show, and a TV drama.

Over the years, Steve has been inundated with e-mail from teens who hated reading ...until they read his novels. When he learned high school teachers were actually using his books in the classroom (MEG had been rated #1 book for reluctant readers) Steve launched Adopt-An-Author, a nationwide non-profit program designed to encourage students to read. Teachers who register for the program (it's free) receive giant shark posters, free curriculum materials, student-author correspondence, an interactive website, and classroom conference calls/visits with the author. To date, over 10,000 teachers have registered, and the success rate in getting teens to read has been unprecedented. Steve now spends half his work week working with high schools.