Baseball, Hot Dogs, and Coral Reefs at the new Marlins' Stadium
What do major league baseball and coral reef aquaria have in common? If you said the Florida Marlins new Ballpark in Miami you are right! The New Marlins Ballpark, scheduled to open in 2012, features two state-of-the-art coral reef aquaria, both within wild pitch distance of home plate.
Our guest today is Francis Yupangco, the very experienced Director of Business Development and Marketing, and Senior Marine Biologist for Living Color Enterprises, Inc., the innovative company based out of Ft. Lauderdale, Florida, which designed and is building these elaborate and high tech systems.
Join us as we discuss how Francis and his company's team are making baseball, hot dogs, and tropical fish a unique and entertaining combination!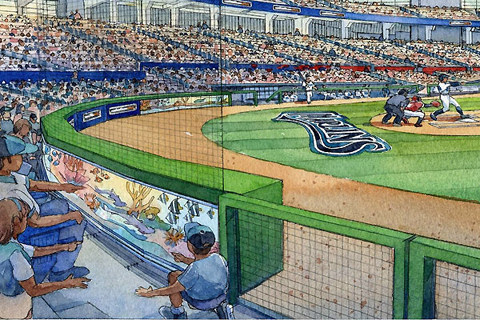 Francis Yupangco began his professional aquarium career at the age of 14, working at a local aquarium store. At 17, he was recruited by the Vancouver Public Aquarium where he served as an aquarist, researcher and marine biologist for over 7 years.

From 2003-2009, he was the Director of Operations and Corporate Curator at Issham Aquatics International , the Middle East's largest public and commercial aquarium management and construction company. Francis oversaw the design, project management and operations of public and private aquarium facilities including, The Royal Shark Encounter (1,600,000 L), Jeddah Beach Park (1,500,000L), Khalifa Park (900,000 L), SCITEC (330,000 L), the KAUST Marine Research Centre (500,000L), and many others.

Francis proudly joined the Living Color team as Director of Business Development and Marketing in 2009 to direct corporate strategy for America's largest custom aquarium manufacturer. He leads the development of large institutional and commercial projects, and develops new business relationships and marketing opportunities to further position Living Color as the global leader in Aquarium and Themed Environment Design and Manufacturing.