Are You Protecting Your Dog? Discover the Only Officially Crash Tested Car Seat for Dogs
Pupsaver is the premiere company making crash tested, rear facing car seats for small dogs. And, they're fashionable, too! Find out what makes them different and how you can protect your fur baby in style!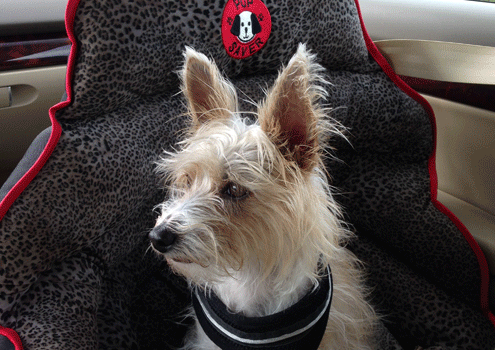 Ray weighed in here, too. Pupsaver is a family business; the brainchild of Ray Bennett, after an incident with his dog and pal, Webber. As told by daughter, Ashleigh: "About 6 years ago, he began taking his Lhasa Apso, Webber, in the car everyday as his lunch companion. He started to get really nervous. Webber was riding in the front seat (he refused to stay in the back) and was sliding around on the passenger seat. One particular day, my dad had to slam on the brakes hard to keep from hitting another car, and Webber just launched into the dashboard and fell to the floor. My dad took him to the vet, who said he was banged up, but ok. He was limping around the house and my dad felt like a terrible pet parent. He couldn't bear the idea of ever doing that to the dog again, so he started researching trying to find a dog harness system for the car.
He actually called up one of his auto industry buddies, a veterinarian and a Georgia Tech engineer he knows. They started doing testing using a rear-facing shell type seat, like an infant's. What they found was that the most important thing in a crash is impact protection; keeping the animal on the seat.
"I invented the PUPSAVER when I realized I was putting my dog in harm's way by allowing him to ride on the seat next to me, with nothing but hard surfaces to slam into when I was forced to stop quickly. It occurred to me, I would never allow a baby to ride in such a dangerous manner, and I immediately sought out all products available to provide protection….I bought harnesses etc., but those were not the answer for me. I realized that these small, fragile fur babies needs were much like an infant child, and I set out to emulate the rear facing infant safety seat for a small dog. The missing link had been the lack of any impact protection for my constant companion."
After much research and many prototypes, the Pupsaver was born. For anyone with a dog 25 lbs and under, rejoice. Finally, a car seat that is safe, comfortable and looks great.