Taiwan Fine Artist, Lilin Tseng, Creates Beautiful, Lifelike Portraits & Sculptures From Our Pet's Own Hair
Lilin Tseng is a true artist and animal lover. Her desire to honor rescue dogs and her own rescue, CJ, inspired her to create beautiful works of art made from a pet's own hair. Meet Lilin, discover her process and learn about wonderful stories of pet's she's immortalized with her Furry Memories artistry.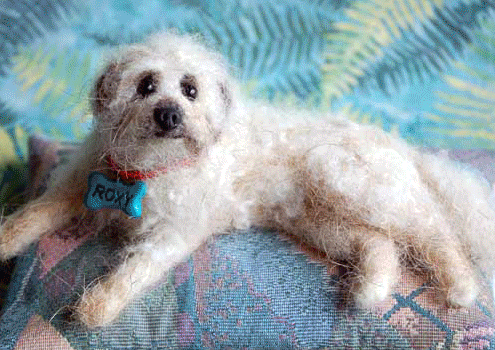 In my childhood, there were always animals in the house. Father went through several short term passions for various kinds of pets – started with raising pigeons, then cockatiels, tropical fish, peacocks, rabbits, and we always had cats and dogs around.
Father loved the idea of having pets, but his enthusiasm died down soon after he got tired of the responsibility of caring for them. Mother ended up to be the one who had to take care of all the pets. She failed to see the joy of having these animals and resented the endless daily chores that left her with no time of her own.
Since that Mother did all the hard work, we children got the full benefit of playing and interacting with our pets with little responsibility. We learned to recognize and appreciate that special bond between our animals and ourselves at a very young age. Stepping into adulthood, we continued to value the companionship of our animals; and also learned that they give us their unconditional love and bring joy to our lives, they also count on us to take care of them.
It saddens me to see so many pets being neglected, abused, or abandoned just because their owners got tired of them, too lazy to take care of them, or simply have no respect for the living creatures. I have adopted several rescued dogs in my adult life, and I can say with absolute certainty that there are no bad dogs but only bad owners.
Inspired by my rescued shaggy dog CJ, I incorporated a needle felted replica of him in one of my sculptures for my Merryville Mixed-Media Sculpture Art Show in summer 2013. During the show I received a lot of inquiries about the felted dog. I started taking commissions for custom needle felted portraits of people's pets since the end of the show. And the rest is history.