An Artisan and a Designer Come Together to Make Beautiful Pet Accessories: Meet Around the Collar
Fashion designer, Sharon Romero and South American leather artisan, Lalo, make beautiful music together as the principals behind, Around the Collar, a brand creating quality, special accessories for pets.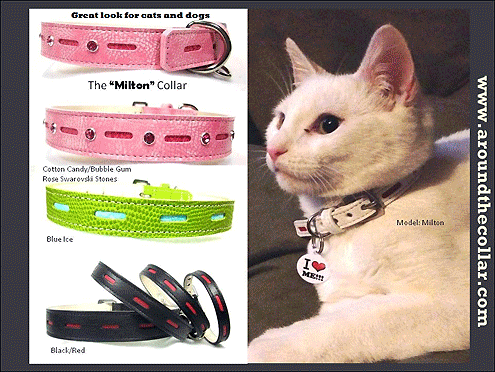 People meet in unusual ways, for Sharon and Lalo, it was the belt industry. Sharon, a high-fashion belt designer, was desperate to find a skilled craftsman. When she was introduced to Lalo, she knew she had found the talent she was seeking. Quickly, they became a team professionally and personally. Sharon has the fashion savvy and Lalo translates the idea to reality.
So why dog collars?
While looking for a way to grow their belt business, the Romero's discovered a gap between fashionable and well-made pet accessories. Anything stylish was poorly constructed while the higher-quality items lacked flair. They found a niche.
Around the Collar's mission is to satisfy the needs of the person seeking something special for their "loved one". From their own experience as the parents of an active Border Collie construction is the bottom-line. All their products are made with tremendous care and use only fine quality leathers and hardware along with offering awesome color combinations.
Keeping "your best friend" comfortable and in high fashion is the Around the Collar goal. After all, a pet that is well accessorized is a happy pet.