Olympic Magic - Part 1 - Johnny Weir
Go behind the scenes of the Olympics, the National Dog Show and the lives of Olympic champions, culture/lifestyle commentators and stylish BFF's, Johnny Weir and Tara Lipinski, as they dish on it all.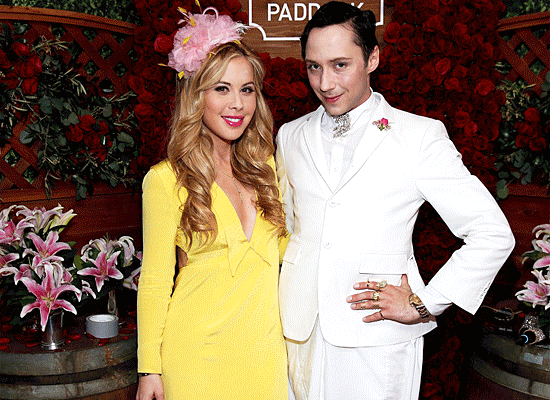 JOHNNY WEIR — a three-time US champion, two-time Olympian, and World bronze medalist — is one of the superstars of figure skating and a pop-culture icon. Fans all over the world love his elegant yet edgy style both on and off the ice, and the delicious unpredictability of what he'll say — or wear, or do — next.
Born July 2, 1984, in Coatesville, Pennsylvania, Johnny did not start skating until the relatively late age of 12, when he taught himself how to skate on the frozen Amish-country cornfields behind his home. Just four years later, he won the gold medal at the 2001 World Junior Championships.
Johnny went on to win the bronze medal at the 2008 World Championships — the only medal won by a member of Team USA at that competition — as well as US Figure Skating's 2008 Readers' Choice Award for Skater of the Year (Michelle Kwan Trophy). Off the ice, he starred in Retribution Media's documentary, Pop Star on Ice, which won the 2009 QFest Philadelphia Viewer's Choice Award.
In 2010, Johnny made the US Olympic team for the second time and represented his country in the Olympic Games in Vancouver, once again capturing the hearts of millions. Post-Olympics, Johnny put his fame to good use, balancing performances in skating shows around the world with appearances at benefits and charity events across the US. He starred in his own reality series, Be Good Johnny Weir on the Logo Network, for which he won the 2010 NewNowNext Award for Most Addictive Reality Star. Also in 2010, he again earned the Readers' Choice Award for Skater of the Year, making Johnny the first skater other than Michelle Kwan to win this trophy more than once.
In fall 2010, Johnny was honored by the Human Rights Campaign with its Visibility Award. In his introductionof Johnny, HRC spokesman Dr. Marty Lieberman explained that the award is given to "individuals who are living open and honest lives. Well, Johnny is doing much more than that. He is a force of nature, with all of his fabulousness swirling around him like the eye of a storm. … Johnny has given courage to all the little boys and girls out there who want to pursue [their] dreams … [T]hank you, Johnny Weir, for making the world a more welcoming place, and for your brave determination to be who you are."
In September 2012, Johnny represented the United States as a Goodwill Sporting Ambassador to Japan on behalf of Secretary of State Hillary Rodham Clinton, in support of her view that "gay rights are human rights," according to State Magazine. The U.S. Consulate in Fukuoka, Japan, invited Johnny and three-time Japan champion Miki Ando to conduct an ice-skating clinic for more than 100 young skaters, and to meet with local LGBT youth and leaders.
On October 23, 2013, Johnny announced his retirement from competitive skating in an appearance on NBC's TODAY show, and was welcomed to the NBC broadcasting family in his new role as an expert figure skating analyst for the network's figure skating coverage, including the upcoming Olympic Games in Sochi, Russia.
In February 2014, Johnny traveled to Russia and provided hours of live commentary for NBC Sports Network on the figure skating events at the Sochi Winter Olympics. His concise, insightful, and witty analysis, coupled with the on-air charisma he enjoyed with broadcast partner Tara Lipinski — as well as their shared love of fashion — made the duo an Internet sensation. Their Instagrams — his, hers, and a shared account — quickly became a daily must-see for growing legions of fans. Demands for a promotion to prime time went viral, as did this Buzzfeed homage.
Upon his return from Sochi, Johnny was tapped by Access Hollywood and TODAY to provide fashion commentary for the 2014 Oscars, where, along with Tara, he wowed on the red carpet. Much to his delight, he also was the subject of an SNL parody by Big Bang Theory star Jim Parsons. Johnny and Tara also provided fashion commentary at the May 2014 Kentucky Derby, where Johnny's stunning original hat was immediately declared the winner of the event.
Months later, it was revealed that Johnny was starring as host/interviewer in To Russia With Love, a documentary by Robert Redford's Sundance Productions. The project examines human rights through the lens of LGBT athletes, and in light of Russia's draconian anti-gay laws. Portions were filmed secretly in Sochi during Johnny's acclaimed turn as NBC Olympics commentator. The documentary, for which Johnny also is executive producer, premiered October 29, 2014, on EPIX.
Also in October 2014, Johnny and Tara fans got their long-held wish: NBC announced it was promoting the duo to become their lead figure skating commentary team through the 2018 Olympics in PyeongChang, South Korea.
In January 2015, To Russia With Love was nominated as Outstanding Documentary in the GLAAD Media Awards.
Most recently, Johnny was honored in November 2016 as the first-ever Winter Village Skating Ambassadorby New York City's Bryant Park. His sassy performance to "Santa Baby" at the park's annual Tree Lighting Skate-tacular wowed the record crowd.
Brilliantly talented, unabashedly outspoken, always entertaining, and embraced by a following that spans the globe, Johnny continues to win the hearts of new fans with every appearance.