Pet Expert Arden Moore Unleashes her Top 9 Pet Product Picks for the Holidays
Oh Behave show host Arden Moore is America's Pet Health and Safety Coach. In this special episode of her award-winning show, she becomes Santa Paws and reveals her Top 9 Pet Gift List for 2016. Joining her as special co-host is Erin Fenstermaker, a business consultant who specializes in the pet industry. These top-quality products meet Arden Moore's standards for safety, health and purpose. So, shop smartly this holiday season for the favorite tail-wagger or purr machine in your life by picking from pawsome gift list.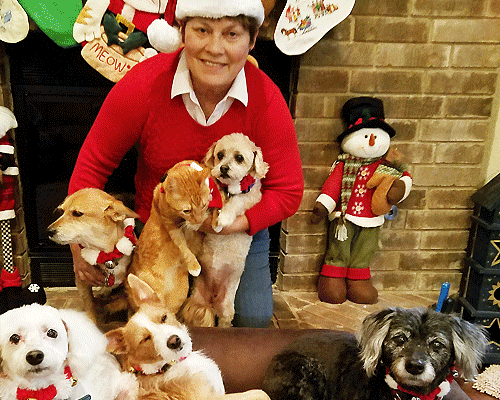 Katris Lynks: This is a modular, durable and eco-friendly cat scratcher featuring a real teak wood cover. This scratcher is built to be shred resistant and created so you can add on and create different design combinations. We like that this company also donates products to animal shelters. Learn more at www.katriscat.com

Cats Incredible Litter by Lucy Pet Products: This revolutionary cat litter has a patent-pending technology that keeps urine-smelling ammonia from forming inside the litter box. And, all profits from the sale to the Lucy Pet Foundation to reduce pet overpopulation via mobile spay and neuter clinics. Learn more at www.lucypetproducts.com.

Drymate Trapping Litter Mat: Not only is this litter mat nice looking, soft to walk on, waterproof and machine washable, but it does what it claims: it reduces litter tracking. Made of 100-percent polyester fiber, this non-skid mat has narrow channels that gently pull litter from your cat's paws and trap any liquids. Learn more at www.drymate.com.

Traveler Safety Belt by Alcott Adventures: Alcott Adventures recognizes that dogs make great travel mates and this safety belt keeps dogs safely tethered on road trips – short or long. This specially designed, affordable dog safety belt easily snaps into the seat belt receptacle and to your dog's D-ring on his harness. Learn more at www.alcottadventures.com.

Car Cuddler by Solvit Pet Products: Anyone who has traveled with dogs in their cars know that dogs can be rough on a vehicle's interior. We're talking muddy paws, drool, hair and claw marks on the upholstery. This Solvit product solves these problems by being a dog bed and seat cover in one. It comes in large and small sizes. Learn more at www.solvitproducts.com.

Watercollar by HedzUp Pets: This brightly colored durable pet floatation device fits through a dog's collar. Its patented design keeps a dog's head out of the water at all times to prevent a dog from drowning, even if he tires while swimming or cannot find his way out of a pool. This is the ideal gift for people with water-loving dogs. Learn more at www.hedzuppets.com.

Explorer First Aid Kit by Alcott Adventures: This is a three-in-one first aid kit as it contains 40-plus first aid items for people, dogs and cats. We also like its affordable price and compact design. This is definitely your go-to first aid kit for both your home and inside your vehicle. Learn more at www.alcottadventures.com.

Stella and Chews Meal Mixers: Meal Mixers are a great way to "kickstart your kibble" by adding freeze dried raw, nutrient-rich meat, wholesome fruit and vegetables, probiotics and antioxidants to your dog's or cat's kibble diet. What you feed your pet does matter and this is a very healthy choice. Learn more at www.stellaandchewys.com.

Carlson Morgan Premium Beef Treats: These high-quality dog treats contain only one ingredient – dehydrated beef lung. No fillers, no artificial colors – no fooling. Made in California, these are perfect treats to give to your favorite dog. And, right now, the company is offering a promotional price for bulk order and free shipping. Learn more at www.carlsonmorgan.com.