America's Veterinarian and
a National Humanitarian
Robin spends the first half of her show chatting with America's Veterinarian, Dr. Marty Becker. Dr. Becker is author of 22 books and is well-known for his appearances on "Good Morning America" and the "Dr. Oz Show." Later, Robin catches up with Paris Hilton, the recent recipient of American Humane Association's National Humanitarian Medal who discusses what it means to her to be humane.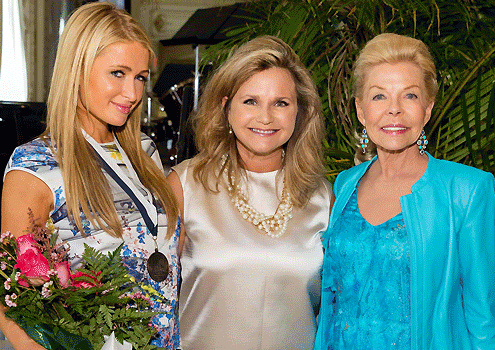 Photos by Lucien Capehart Photography & Pet Life Radio
Dr. Marty Becker
Through education and entertainment, Dr. Marty Becker strengthens that special relationship between pets and people he calls, "The Bond."
As a veterinarian, media personality, author, lecturer, educator, contributor, influencer and recipient of many prestigious awards, Dr. Marty Becker has become known as the "best loved family doctor for pets." Despite his demanding writing, speaking and television schedule, Dr. Becker still enjoys his work as a practicing veterinarian, at the North Idaho Animal Hospital.
For more than ten years, Dr. Becker has been the popular veterinary contributor to ABC-TV's "Good Morning America." More recently, he has started appearing on the new "Good Morning America Weekend." He has also taped special features called the GMA Pet Clinic which are one minute vignettes on topics such as giving medications, stopping bleeding and taking a pet's temperature. Dr. Becker has also hosted a nationwide PBS pledge special produced by Detroit Public Television called, "The Pet Doctor with Marty Becker." Additionally, he has appeared on Animal Planet, and is a frequent guest on many national network and cable TV and radio shows
Dr. Becker's syndicated column, Pet Connection is carried internationally by the Universal Press Syndicate. He produces the weekly feature along with his writing partner, Gina Spadafori, and a team of top animal-care experts including Susan and Dr. Rolan Tripp of AnimalBehavior.net. Dr. Becker previously wrote for McClatchy-Tribune Information Services (formerly Knight-Ridder Tribune Services). Dr. Becker has been a contributing editor for Cat Fancy, Dog Fancy and has written for Reader's Digest. He was the Chief Veterinary Correspondent for Amazon.com.
Paris Hilton
Paris Hilton is one of today's most recognizable figures, known around the world as a savvy businesswoman, entrepreneur and media icon. She is one of the most photographed women in modern society and the topic of endless media attention. She has built a successful global brand empire spanning all corners of the world, from Tokyo to London and Dubai; Paris Hilton is the portrait of a modern businesswoman.
Paris Whitney Hilton was born February 17th in New York City. She is a great-granddaughter of Conrad Hilton, founder of Hilton Hotels.
Paris was singing and acting all the way through her childhood. She used to sing at family events with her sister, Nicky Hilton. Paris began her career as a teenager in New York, where she walked the runways for Fashion Week shows and modeled for high profile magazine and brand campaigns. Her father, Rick Hilton, encouraged her to pursue business and by the age of 18 she was an entrepreneur with a growing brand.
Hilton is commonly recognized as the pioneer of reality TV after introducing the new genre of American television into the homes of millions. As the star of 'The Simple Life', Hilton, along with friend and co-star Nicole Richie, helped revolutionize TV. From 2003 – 2007 her comedic antics on FOX's hit show made Hilton a household name and in 2009 FOX awarded Hilton with the award for 'Innovator of Reality TV.'
In 2006, Paris Hilton Entertainment was established to leverage the appeal and talents of Paris Hilton as a designer, recording artist, actress, model and author, and has since become a billion-dollar company. PHE manages all brand licensing, entertainment and endorsement deals for Hilton, and as the face of the company, Hilton takes an active role by overseeing product development, design, marketing and promotion. Paris Hilton's 17 branded lines include shoes, handbags, watches, lashes & nails, sunglasses, clothing and more, and are sold in Hilton's stores in more than 40 countries across the globe.
Since 2004 Hilton has released 15 fragrances, grossing more than $1.8 billion, and is currently working on her 16th. In 2011, Variety magazine – the entertainment industry's leading trade authority – awarded Paris Hilton as a "Billion Dollar Entrepreneur" in recognition of her successful business and global brand.
In 2012 Hilton was able to accomplish a lifelong dream, and follow in her family's footsteps by venturing into the world of hotels and real estate. Opening in late 2013, the Paris Beach Club at The Azure, in the Philippines will be Hilton's first venture in the real estate and hotel business. By partnering with leading real estate firm Century Properties, Hilton's Beach Club will include a string of luxury resort residences.
As a trail blazer and pioneer of new trends it's no surprise that 2013 was another landmark year for Hilton who quickly became a key player in electronic dance music when she landed a coveted DJ residency at Ibiza super-club Amnesia. Performing weekly throughout the summer, Hilton led a crowd of more than 5,000 club goers through an energetic music show and is now in high demand to DJ at venues all over the world.
However it was Hilton's record deal that firmly put her on the map as a music artist this summer. Hilton signed to renowned music label Young Money Cash Money Billionaires, the label founded by impresario