Honoring All Military Dogs
on Veterans Day
For a special Veterans Day edition of the show, Robin comes at you live from the streets of New York City just moments before taking part in the 2014 Veterans Day Parade where American Humane Association honored the importance of dogs to the nation's military and their hero handlers on the other end of the leash. For this week's show she interviews many of the guests joining her on the float, including "Law & Order SVU" star Ice-T – an army veteran himself – and his wife Coco! Also appearing on the show are several veterans who were on the float and who American Humane Association helped reunite with their military dogs earlier this year. Finally, Mrs. Lois Pope, the nation's foremost advocate for helping disabled veterans and an American Humane Association board member, and the woman who generously made American Humane Association's involvement in the parade possible, was interviewed about her two passions in life: helping animals and helping our veterans. It's one of our most heartwarming, inspiring shows yet!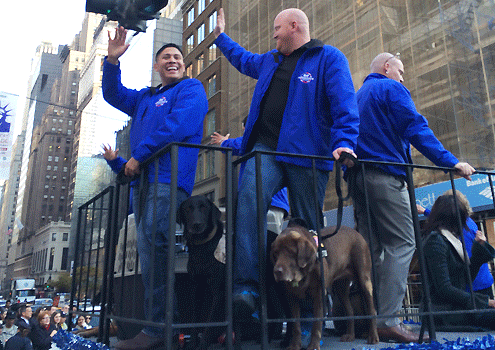 Ice-T
Ice-T not only invented gangster rap, he has lived it. Ice-T is the original embodiment of LA Hip-Hop and a cultural icon. Through his music, his books (The Ice Opinion, Ice: A Memoir of Gangster Life and Redemption-from South Central to Hollywood), and his lecture tours of America's prisons, high schools, libraries, and colleges (including Harvard, Princeton, and Stanford), Ice-T has become an influential spokesman for America's youth, regardless of color.

Born in New Jersey, Ice-T learned the art of survival pretty fast. An only child whose parents died when he was very young, Ice-T became involved in Los Angeles gangs before spending four years in the army.

His first break came when the producers of the film Breakin' asked him to rap in the movie. He went on to become rap music's original gangster, writing songs like "Six in the Mornin" and "New Jack Hustler."

Ice-T formed Rhyme Syndicate Records in 1989 and released a string of groundbreaking West Coast rap records. He subsequently formed the thrash metal band Body Count with close high school friend and guitarist Ernie C. Body Count's 1991 self-titled debut contained the controversial single "Cop Killer." Body Count was the most critically acclaimed act on the highly successful 1991 Lollapalooza tour, and continues to tour worldwide. As his politics were grabbing headlines, Ice-T's film and television career was taking off. The controversial personality secured roles in New Jack City, Ricochet, Trespass and Johnny Mnemonic, all while building a flourishing television career. He has numerous independent and documentary film roles to his credit as well.

Ice-T currently stars in NBC's Law & Order: Special Victims Unit as Detective Odafin Tutuola for his sixteenth season. For three seasons in 2012/2013 Ice and his wife, Coco starred in the E! reality show Ice Loves Coco.

As an artist, his reach has crossed from music into film and television, and interactive media. He is the voice of "Griffin" in the Gears of War 3 game released in Sept 2011. As an author, in 2011 he released two books, the first being, Ice: A Memoir of Gangster Life and Redemption-from South Central to Hollywood (Random House) and the second book a fictional tale entitled, Kings of Vice (Tor). The follow up to Kings of Vice, Mirror Image is being released May 7, 2013

In Jan 2012, Ice premiered his directorial debut, "Something from Nothing: The Art of Rap", at the Sundance Film Festival. In Sept 2012 the Ice-T produced documentary Iceberg Slim: Portrait of a Pimp premiered at the Toronto International Film Festival and was released theatrically in 2013.

In May 2014 Ice and his band Body Count, released a new and critically acclaimed album called "Manslaughter . In the summer of 2014, Ice-T and Body Count did the 28 city Mayhem Festival playing to a average audience of 20,000 people a night.