On Tour with Animal Stars
Robin taped this week's show from a bookstore in Charlotte, North Carolina, site of the last stop on her nationwide tour to promote her new book Animal Stars: Behind the Scenes with Your Favorite Animal Actors. She's traveled the country with a few of the animal actors and the trainers featured in the book, and has met many wonderful animal lovers across America. This week's show features special guests Christina and Taylor Potter, the trainers of Hudson, the Golden Retriever star of Our Idiot Brother and "Saturday Night Live"! The Potters were with Robin in Charlotte and at many of the other stops along the way. Listen in as they talk about the tour and why the book makes a fabulous holiday gift. Each copy sold helps American Humane Association continue its lifesaving mission of saving kids and animals!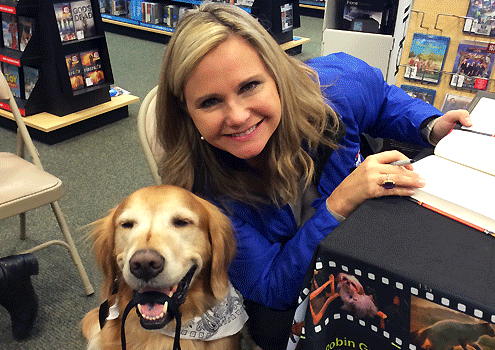 Christina Potter works with the All Star Animals and Animals for Advertising agencies in New York and has been an animal-actor trainer since 2000. She was the animal trainer for the film Our Idiot Brother, which featured her golden retrievers Gable, Kelly, and Hudson. She is the author of a novel about life as an animal actor called Chester Gigolo: Diary of a Dog Star.