Afternoon Tea with Crystal
Meet Crystal the capuchin, star of the Night at the Museum movies! Live from an inspiring, magical afternoon at the Chesterfield Hotel's Leopard Lounge in Palm Beach on Thursday January 22 as a packed house of animal lovers and movie lovers attended a special "Afternoon Tea with America's Animal Stars." Our host Dr. Robin Ganzert interviews famed Hollywood animal actor Crystal the capuchin. Organized by American Humane Association and hosted by humanitarian Lois Pope, the tea provided guests the opportunity to meet beloved animal actors and learn more about the new book, Animal Stars: Behind the Scenes with your Favorite Animal Actors. In 2015, American Humane Association's "No Animals Were Harmed®" program celebrates 75 years as the only film-industry sanctioned group ensuring the safety and welfare of animal actors on sets of movies, television shows, and commercials.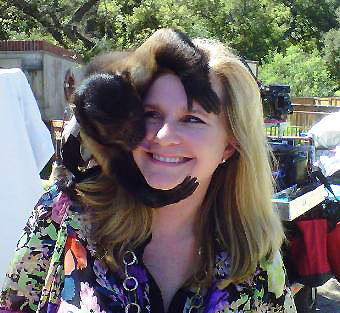 Tom Gunderson
Tom Gunderson is an American animal trainer. He is known for providing animals for film and television productions. His best-known trained animal is Crystal the Monkey, who is an 20-year-old Capuchin monkey. In 2012, Gunderson worked with the television production of Animal Practice, which utilized the services of Crystal the Monkey in a prominent role.
Crystal
Crystal the Monkey is no small bananas. In just five of her movies, she holds a box office gross of over $1.5 Billion. Her film, "Hangover 2" opened at $177.8 Million, the largest opening weekend in history for a comedy. She has worked with some of the biggest directors in Hollywood. She has held her own with Oscar Winners, stole scenes from top comedians and is beloved with the press as she commands Red Carpets. Paired with her extraordinary trainer, Tom Gunderson, she began in the business at the live animal show at Universal Studios. In 1997, she appeared in her first film "George of the Jungle." In 2007, with over 20 features to her name came her big break came in "Night at the Museum" with Ben Stiller. With her naughty character, Dexter, she proved herself as not just a trained animal, but as an actor. In the second installment of"Museum" she reprised her role of Dexter and furthered her range by playing the duel character of Able. In 2011, Crystal solidified herself as an box-office actress. Beginning with "Hangover 2" where she was a tour de force as a drug dealing gangster. Also, starring in "Hangover" was the hilarious actor, Ken Jeong who said "She's not a monkey, she's an actor. And quite possibly the best actor I've worked with." In the USA Today's review by Brian Alexander he said "one cast member truly stood out: Crystal, a capuchin monkey. Maybe her name should be Hollywood's Hottest Monkey." She went onto play Donald the Monkey "Zookeeper" starring Kevin James with Adam Sandler dubbing her voice. Rounding out the year with Oscar winner, Matt Damon in "We got a Zoo." When the new show "Animal Practice" aired in 2012, with Crystal on their cover, New York Magazine said "NBC's most valuable commodity this fall: an irresistible, virtuoso capuchin monkey." She played the adorable sidekick Dr. Rizzo.