Tribute to K-9 Battle Buddies
For members of the military, dogs are their best friends. Dogs keep them safe and can provide company in the face of unspeakable hardships. Five of these special K-9 Battle Buddy teams were honored for their bravery and service to the nation at a special luncheon at the Mar-a-Lago Club, hosted by philanthropist Lois Pope and American Humane Association. Many special guests were on hand to join in the celebration, including country music legend Naomi Judd, "America's Veterinarian" Dr. Marty Becker, retired four-star Army general Peter Chiarelli, and retired Army First Sergeant Matt Eversmann, one of the heroes of the Battle of Mogadishu whose story was immortalized by actor Josh Harnett in the film, "Black Hawk Down."
This patriotic episode of Be Humane features interviews with Sergeant Matt Hatala and MWD Chaney, Corporal Jeff DeYoung and MWD Cena, Corporal Jonathan Cavender and MWD Maxi, Corporal Nick Caceres and CWD Fieldy, and Army Specialist Brent Grommet and MWD Matty. Today's episode introduces a new study that will be launched this year by American Humane Association on proving the efficacy of service dogs for veterans with PTS.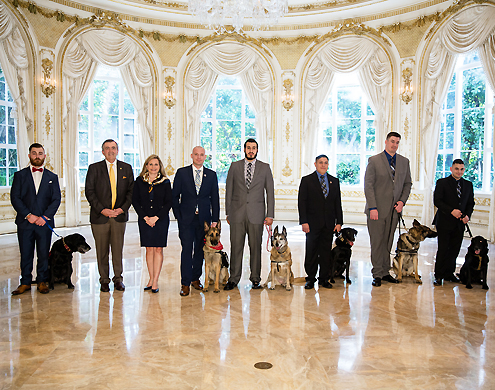 Matt Hatala and Chaney
This eight-year-old lab retired from the Marines in 2013 after multiple tours in Iraq and Afghanistan as an IED detection dog. While deployed, Chaney not only saved countless lives by locating IEDs, he also served as a great morale booster for everyone in his squad. Since retiring, Chaney was adopted by one of his handlers and they now spend many hours volunteering around the Midwest for a nonprofit organization called Retrieving Freedom, Inc., which trains service dogs for disabled veterans and children with autism.