Battle Buddies Take the Hill
Last week American Humane Association traveled to Capitol Hill to meet with Senators and members of Congress about the importance of dogs to the military and the need to make sure they all come home. Army Specialist Brent Grommet and Marine Corporal Jeff DeYoung were there for the meetings and join Robin on this week's episode to talk about what their dogs Matty and Cena mean to them and why Congress needs to act now.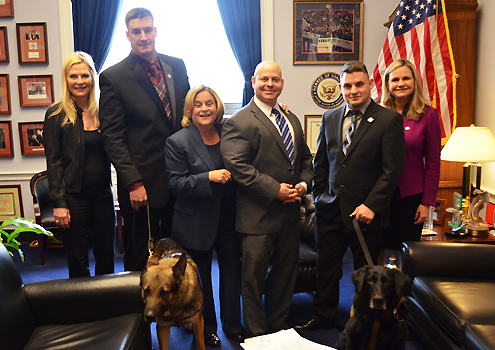 Corporal Jeff DeYoung & MWD Cena
This brave pair served together in the United States Marine Corps and served one tour of duty together from October 2009 to April 2010 as part of Operation Moshtarak, the largest military operation in Afghanistan at the time. Cena served a total of four years in the military, and was separated from Corporal DeYoung for four years, one month, and eight days. They had a tearful reunion on June 5, 2014 with help from American Humane Association and the pair now lives in Muskegon, Michigan. "He's not my best friend. He's my brother," said DeYoung, referring to his deployment with Cena. The pair joined American Humane Association and Mrs. Lois Pope on the special Veterans Day Parade float honoring all military dogs in New York City last November.
Army Specialist Brent Grommet & MWD Matty
Army Specialist Brent Grommet and Matty served as a bomb detection team in Afghanistan, but a roadside blast in June 2013 ended their careers. Upon returning to the United States after being wounded in the explosion, Grommet and Matty were unceremoniously separated. Grommet was certain he would be able to reclaim Matty because he had submitted adoption papers. However, due to bureaucratic error and/or negligence, Matty was adopted by another party.
Only after months of dedicated searching by Brent Grommet's hero dad, Don Grommet, and help from Mrs. Pope, individuals, members of Congress, media outlets and organizations like American Humane Association and Veterans of Foreign Wars were Brent and Matty finally reunited. Now begins the effort to make sure stories like Brent Grommet's never happen again. The pair were also honored in Palm Beach in March 2015.