Max: Best Friend, Hero, Marine (PT. 1)
This week's episode is the first of two dedicated to the upcoming Warner Bros./MGM film Max! Robin sits down with the film's director Boaz Yakin and young star Josh Wiggins to discuss the bond between Max and the characters, and between the actors and production crew and the animal stars. Later, Robin chats with Dr. Kwane Stewart, the Chief Veterinary Officer for American Humane Association's "No Animals Were Harmed®" program, about how they ensured the safety of those animal stars while filming some incredible stunts.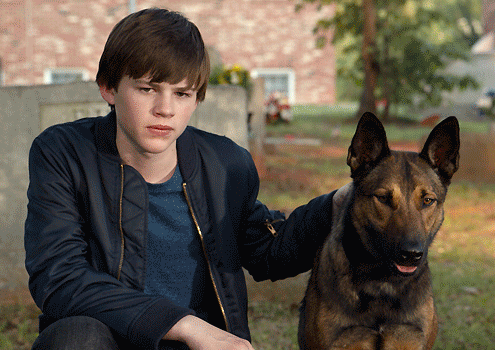 Boaz Yakin
Boaz Yakin is the critically-acclaimed director of the films Remember the Titans and Max, among others. He also has many screenwriting credits to his name, namely Prince of Persia: Sands of Time and Safe.
Josh Wiggins
Josh Wiggins is a young new star who broke into Hollywood just last year, starring in Hellion with Aaron Paul, and now plays the leading role of Justin Wincott in Max. Entertainment Weekly considers him to be "the next Leonardo DiCaprio."
Kwane Stewart, DVM
Renowned veterinarian, Dr. Kwane Stewart joins American Humane Association as Chief Medical Officer and senior leader for Humane Hollywood, and our flagship program No Animals Were Harmed®. He brings visionary leadership, impressive medical credentials and extensive animal welfare experience to his role which will provide American Humane Association and over 2,000 productions annually with exemplary medical expertise and expert guidance.
A graduate of Colorado State University, a prominent veterinary school where he earned his Doctorate of Veterinary Medicine in 1997, Dr. Stewart has been a practicing veterinarian for 15 years. At the age of 26 he moved to San Diego to begin his career in small animal medicine with an emphasis on emergency care. After perfecting his skills as an associate in several areas in Southern California, he was promoted to Chief Medical Officer for Vetco Hospitals Inc. He spent five successful years with Vetco where he provided oversight and leadership for over 40 vaccination clinics and six hospitals. In addition, he assisted in restructuring the company, handling negotiations and training personnel.
After five successful years with the company his career took an unexpected turn. While visiting an animal shelter in Northern California in 2007 he learned they had been without a vet for nearly three years. He knew that he would be able to bring his indomitable compassion, professional proficiency and expert qualifications to the job and was quickly appointed County Veterinarian for Stanislaus County in Modesto, California.
For the past five years, Dr. Stewart has overseen the care of thousands of animals in an area suffering from massive pet overpopulation, and thanks to his leadership numerous reforms and programs have been implemented resulting in substantial improvement in animal care. Passionate about the human-animal bond and improving the lives of animals, Dr. Kwane Stewart brings expert medical leadership to American Humane Association and the No Animals Were Harmed® program.