Celebrating the Humane Table at Thanksgiving
With millions of Americans set to celebrate Thanksgiving next week, what's almost as important as the people gathering around the table is food served upon it. This week's show comes live once again from the halls of Congress from a congressional briefing celebrating humane farming. Joining her on this week's special episode are Humane Bond Caucus co-chair Congressman Gus Bilirakis, Michelin-starred Chef Ken Frank, happy egg co. president David Wagstaff, Scandinavian Meat Masters co-founder Mika Manninen, National Milk Producers Federation CEO Jim Mulhern, and "America's Pig Farmer of the Year" Keith Schoettmer.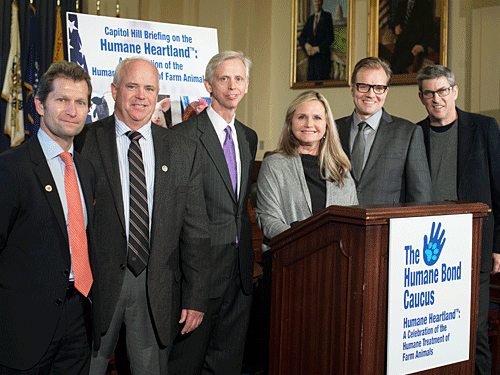 Ken Frank
Executive Chef and Owner
La Toque
Michelin-starred Chef Ken Frank is entirely self-taught and brings a distinctive, personalized touch to his contemporary French cuisine at La Toque restaurant in Napa, California.
Frank's love of French cooking began when his father moved the family from California to Yvoire, France. Frank chose to remain in France and began his culinary career. After returning to California and refining his skills, Frank first achieved national acclaim at age 21 at the Los Angeles restaurant La Guillotine. In 1979, he opened the first La Toque on Sunset Strip. After a 14-year run, Frank sold the restaurant and in 1995 opened the award-winning Fenix at the Argyle.
Mika Manninen
Co-Founder
Scandinavian Meat Masters, LLC
Mika Manninen is the co-founder and owner of Scandinavian Meat Masters, the first and only pork on the U.S. market that is both American Humane Certified and GMO Project Verified.
Since 2005, Manninen and his wife and business partner Helena Lumme, have specialized in incubating, branding and finding new markets for viable products, businesses and innovations. Their passion is to make healthy, unprocessed and GMO-free foods available for everybody. In 2010 Manninen and Lumme cofounded
Simpli, a line of all-natural oat drinks and gluten-free oat products.
James Mulhern
President and Chief Executive Officer
National Milk Producers Federation
Jim Mulhern joined the National Milk Producers Federation (NMPF) as Chief Operating Officer in January 2013 and took over as President & Chief Executive Officer, effective January 1, 2014.
This is a return engagement for Jim at NMPF. He previously directed the organization's government affairs activities, and played a key role in shaping NMPF's policy and communications strategy.
Keith Schoettmer
"America's Pig Farmer of the Year"
Schoettmer Prime Pork
Schoettmer Prime Pork has grown steadily over the years surrounded by 83 acres of green fields in central Indiana. Schoettmer and his wife, Darla, have seen many changes over the years as they raised a family that's now grown and living away from the farm. Today, they raise 22,000 pigs annually on the farrow-to-finish farm
with the help of eight full-time employees. For Schoettmer, creating the best environment for people and farm workers is a key focus. He also has made great strides in becoming a leader in the industry. From receiving the state's Outstanding Young Pork Producer award in 1991 to serving as president of the Indiana Pork Producers Association
David Wagstaff
President and Chief Operating Officer
Noble Foods Inc. / the happy egg co.
As president of Noble Foods Inc.'s U.S. consumer food business and chief operating officer of the
happy egg co., David Wagstaff is committed to bringing humanely-raised eggs to American
consumers at an affordable price. Leveraging his experience from Europe and other progressive
farming countries, David identified an opportunity to bring high humane egg production to the U.S.and co-developed a humane farming model to establish the happy egg co. as the only free-range commercial egg producer with a comprehensive