Chicken Soup for the Soul:
My Very Good, Very Bad Cat
This week Robin previews this heartwarming new Chicken Soup for the Soul book about how very good and very bad our amazing cats can be. Book contributors Carol Teed, Beverly Stowe McClure, and Mark Leiren-Young each stop by to discuss how their feline friends changed their lives.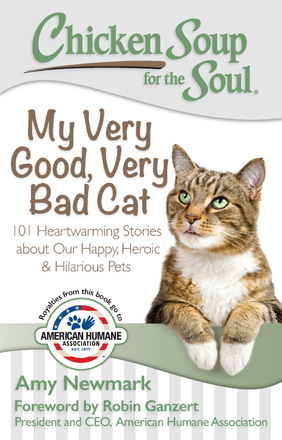 Carol Teed
Carol Teed enjoys writing about her life's work as a veterinarian. She lives in Ontario, Canada with her husband, four children, two dogs and three cats. This is her second story published in the Chicken Soup for the Soul book series and she has also published a book entitled Learning the Secret Language of Cats: A Vet's Translation.
Beverly Stowe McClure
Most of the time you'll find Beverly Stowe McClure in front of her computer, typing stories that little voices whisper in her ear. To relax, she plays the piano. Her cats don't appreciate good music and hide when she tickles the ivories. Beverly has twelve novels for children and teens published.
Mark Leiren-Young
Mark Leiren-Young won the Leacock Medal for Humour for his memoir, Never Shoot a Stampede Queen. His latest comic memoir is Free Magic Secrets Revealed.