An American Humane Love Story

Robin chats with Mark and Julie Steines, a wonderful celebrity couple—both incredible animal advocates and longtime friends of American Humane—who first met at our American Humane Hero Dogs Awards gala in Los Angeles! The just-married pair catches up with Robin and discusses their special therapy dog and social media influencer, Norbert.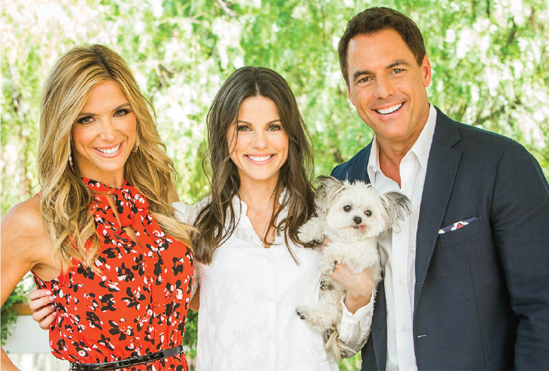 Mark Steines

Emmy award-winning journalist Mark Steines hosts Hallmark Channel's Emmy-nominated "Home & Family." Along with his co-host Debbie Matenopoulos, Steines entertains and informs their audience daily with an array entertaining and relevant lifestyle topics, such as do-it-yourself projects, cooking, celebrities and experts.  In 2017, Steines and Leeza Gibbons will take over as the new hosts of the KTLA's Tournament of Roses Parade broadcast.  

From small town Iowa to the red carpets of Hollywood, Steines a three-time
Emmy winner, has established himself as one of the most trusted and charismatic figures in entertainment news.  Since landing in Hollywood, he interviewed 1000s of A-list actors, producers, musicians and athletes. 

Prior to joining "Home & Family," Steines hosted "Entertainment Tonight" for more than 17 years.  He co-hosted with Mary Hart for 8 years and before that was the weekend anchor and was a leading entertainment reporter for 9 years. 

Other hosting credits include the "2008 Miss America Live!," VH-1's   "Greatest TV Rock 'n' Roll Moments," VH-1's "The 25 Sexiest," the "Golden Karma Awards" recognizing international philanthropic efforts, Mark Burnett's AOL interactive online game "Gold Rush" and the "Hollywood Christmas Parade."  He was a celebrity guest judge on "HGTV Design Star."  

He received an Emmy award for the KCAL-TV special "Beyond Endurance: Madagascar," an Emmy and Golden Mic award for "Beyond Endurance: Borneo," an Emmy as host of the 2005 Hollywood Christmas Parade, and a National Iris Award for the special "The Big Business of Sports Endorsements" and national recognition by the Women's Sports Foundation for his fair and impartial reporting on the Women's National Football League.

Steines receives rave reviews as a photographer. His appreciation for all things beautiful is captured in his portraits and majestic landscapes.  His artwork can be seen on the walls inside many exclusive Hollywood homes and offices.  His photo book "See The Light: A Passage To Sierra Leone," documents the Light House Medical Mission's trip to raise awareness for fresh water in impoverished countries. In the Spring of 2015, Steines photographed more than 30 celebrities for Boot Campaign's patriotic image campaign.

As an actor, Steines has guest starred on television shows including "CSI: NY," "The Practice," "Medium," "Half & Half," "America's Next Top Model," "Handy Manny" and Sony Pictures' feature film "Nixon."

Steines studied comedy at The Groundlings, the renowned school of improv, and earned a degree from JoAnne Baron/DW Brown Acting Studio's Meisner Technique training.  His vocal skills training were fine-tuned at the Kalmenson & Kalmenson Voice Over School for Actors.

A born fitness enthusiast, Steines was featured in People Magazine's coveted "Sexiest Man Alive" issue and Men's Fitness Magazine's "25 Fittest Men in America."  He was a spokesperson for fitness expert Tony Horton and Beachbody's "10-Minute Trainer" program. 

Born and raised in Dubuque, Iowa, he attended the University of Northern Iowa on a full football scholarship and graduated with a degree in Radio and Television. Steines began his broadcast career as a regional television sports reporter, which later brought him to Los Angeles and national television.  Not one to forget his roots, Steines established a mentorship program with his alma mater, equipping students with the tools necessary to successfully transition from the classroom to a career.

An avid hands-on do-it-yourself guy, Steines enjoys spending his free time fixing, remodeling and restoring all things in disrepair. He resides in Los Angeles, California with his wife acclaimed children's book author Julie Steines, his two sons and their golden retriever Fred and Norbert, their 3lb. therapy dog, philanthropist and social media influencer. 

Julie Steines

Julie (Freyermuth) Steines is a multiple award-winning children's book author. She co-owns the publishing and education company, Polly Parker Press, with her mother Dr. Virginia Freyermuth. Her beloved Norbert book series is inspired by her tiny real-life registered therapy dog whose message is "You don't need to be big to make a BIG difference in the world."

With Norbert, Julie's 3 lb. registered therapy dog, Julie has built a global audience of nearly one million highly-engaged followers, known as The Norberthood. Through Facebook, Instagram, Twitter, YouTube, and Vine, Julie consistently promotes kindness and compassion, while inspiring Norbert's dedicated and passionate fans to spread smiles to others. Norbert has become a worldwide phenomenon and a captivating symbol of goodness and generosity of spirit.

Julie has appeared multiple times on Hallmark Channel's Home & Family Show. Her segments have been enthusiastically received by viewers, as she shared real-life aspects about her life as an author, animal therapy team, and as a newlywed bride with her husband, celebrity and show

As a registered therapy animal team for the past six years, Julie and Norbert have spent many hours volunteering at hospitals, nursing homes, schools, fundraisers, and homeless shelters to bring comfort and smiles to people of all ages. Julie's work with Norbert has been featured on Time, People, Wired, HLN, Huffington Post, AOL, InStyle, Oprah.com, Paper Magazine, and Brides.com, among others.

Julie has worked with major national brands and non-profit organizations such as Conde Nast, iTunes, Disney, The Hilton, Natural Balance, Boot Campaign, Pet Smart, and more. Most recently, her company created a "You Buy One, We Give One" Norbert plush toy campaign to benefit the Marine Toys for Tots Foundation.