Pet Podcasts
Check Out

Diane West
Publisher
New York Tails Magazine



Oh, Mother! Doggie Moms of New York and The Not-So-Secret Lives of Three Women
..Erika .............................................Karen .
Grace

.....................................
Out of a city where some 500,000 dogs call home is a not-so-secret subculture of women who call themselves "Doggie Moms." But these aren't just any doggies, and these aren't just any moms. These mainly pocket-sized pooches wouldn't be caught playing dead in anything but the latest fashions, and neither would their doting 'moms.'
In the first episode, airing this Wednesday, February 16th at 9:30pm on NYC Life (Channel 25) viewers some of the moms enter their dogs to be the pick of the litter at the Puppy Prom. Upcoming episodes catch up with the moms at birthday parties, beauty pageants, benefits and polo matches. In addition to following the exploits of the Doggie Moms, the series will feature details about licensing guidelines, dog parks, microchipping, and spaying and neutering. Episodes will also examine the importance of grooming and nutrition, adopting shelter pets, pet first aid, how to volunteer to help animals and more.
"Pets In the City" host Diane West spoke with three of the five moms featured in the six-part series: Erika (mom to Cubby and Ginger); Grace (mom to Portia and Rosie) and Karen (mom to Eli). At the time of the interview, none of the 'moms' had seen the show yet, so this interview promises to be extra-fun as the women tell us who the 'diva' of the show was, who the 'mellow' one was, and which one of the "Moms' they would like to date. Tune in on Wednesday night to see if you agree with their answers!
But all of these good times have a good purpose, too. The release of "Doggie Moms" coincides with this February's "I Love NYC Pets Month", a series of pet adoption, welfare, and fundraising events hosted by the Mayor's Alliance NYC's Animals, and the moms themselves do a lot on behalf of the city's animals for.
Questions or Comments? Send them to: diane@petliferadio.com.
Tweet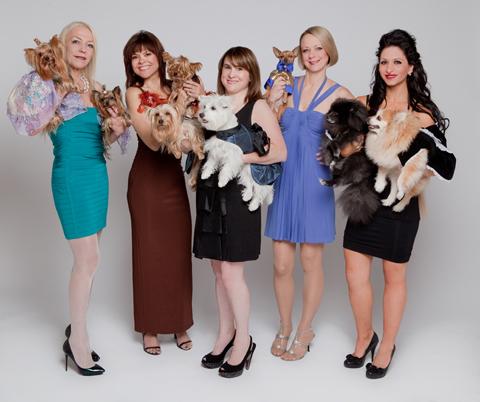 Photos courtesy of Next Millennium Productions

After you purchase your Infoseed™ you will be taken to the form to upload your copy.
Click here for more information about our Infoseeds™

Transcript will be available shortly.