Pet Podcasts
Check Out
Diane West
Publisher
New York Tails Magazine



Give My Regards To Broadway;
Animals Are the Best Medicine
Bernadette Peters ..... .......................Bill Berloni

......................... .................

..
...........
"Pets In The City" travels to the heart of Times Square and into Shubert Alley, where the annual adoption event "Broadway Barks" takes center stage for it's tenth straight year. Founded by world-renowned Broadway actress and singer Bernadette Peters and "America's Sweetheart" actress Mary Tyler Moore, this annual event brings out all of the Broadway stars and some of New York's most adoptable cats and dogs. We'll talk with trainer and author Bill Berloni, who has worked with to some of Broadway's most beloved animal stars for over thirty years, and Bernadette Peters, whose name has been synonymous with Broadway for several decades with classics such as "Annie Get Your Gun", "Gypsy" and many others.

Then, we'll travel downtown to bohemian paradise Tompkins Square Park on the lower east side of Manhattan, just a few steps away from New York's historic "First Run", the first official dog run in the city. We'll be speaking with key members of the therapy dog community and listen to some of their heartfelt stories of people who give their time and "paws" to patients in the hospital. Does your dog have what it takes to be a therapy dog? Listen and find out.
Questions or Comments? Send them to: diane@petliferadio.com.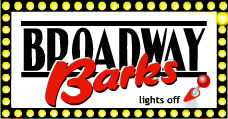 Transcript will be available shortly.