Pet Podcasts
Check Out






Diane West
Publisher
New York Tails Magazine



New York's Pet Fashion Week 2008 – Intelligent Design or Humans Gone Wild?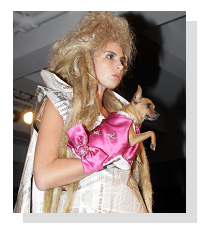 ...........
Pet Fashion Week .... ......................


...........
Watch Slideshow!




Fashionistas, buyers, models and the pet--obsessed stormed several floors of the Metropolitan Pavilion in Chelsea on August 23 and August 24 for New York's Third Annual 'Pet Fashion Week.' While the name may be misleading (the 'Week' is really a 'Weekend') there were more awards, products, grooming demonstrations, professionals and stars of the pet business world packed into two days than you can shake a tail at.

From the foot of the catwalk to the trade show floor, from industry professionals to the newest designers on the scene, this segment of Pets In The City will take you on a whirlwind tour through the 'styles in the aisles' of the most decadent pet products and services on the market today.

But is it all a bit too much? Does a dog or cat really need a dress embellished with genuine Swarovski Crystal, a hand-carved marble food dish and a $300.00 GPS attached to their collar? We asked -- and got some candid opinions -- straight from the sources.

Questions or Comments? Send them to: diane@petliferadio.com.







Transcript will be available shortly.