Love Never Strays
Have you ever walked through an animal shelter?  It teams with hope…dogs and cats hopeful that you will take them home and love them.  Heartbreak because last year an estimated 3 million dogs and cats across the United States found themselves alone, afraid and abandoned in such facilities.  Animal shelter have greatly improved in the services they offer these animals but sadly, the majority of these wonderful loving pets will never find a forever home.  They are destroyed because no one adopts them. There are just too many of them.
A few months ago, my local veterinary association took part in a 'Doctors Without Borders'-type pet wellness event sponsored by a spectacular organization founded by my guest, Teri Austin.  This woman's passion for helping some of the least served pets in the Los Angeles area will hopefully inspire you to help her foundation or who knows, you may want to use this model to tackle the same issues in your home town.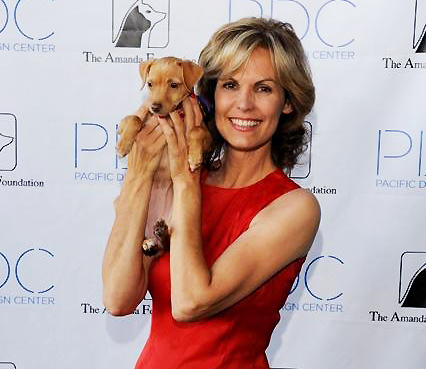 Once upon a time, Teri Austin was one of the stars of the nighttime soap, "Knots Landing."

These days she is still a superstar, not for acting, but for her tireless work with animals. Teri Austin is an actress who became an activist.

As you walk through the kennels at south Los Angeles' Animal Services Center, you get a feeling even the dogs know this home may be their last.

Last year, the animal control agencies of L.A. city, county and local municipalities put almost 105,000 animals to death.

Their crime: being unwanted.

And that's where Teri Austin comes in.

She's been acting professionally since she was a teenager, but her biggest role is her work with animals.

Teri's in charge of the state's most successful mobile spay-neuter program, which is run by The Amanda Foundation.

The program gives free spay-neuter services to pets whose owners can't afford them.

Through this program, Teri thinks the number of local animals put to sleep can be cut in half in the next five years.

"Because it is cheaper in the long run to treat the animals well and spay and neuter them, house them well and spay and neuter them, than it is to continue to build shelters," Teri says. "It's like building more prisons. You know, you want to solve the problem, you don't want to just house the problem."

According to the American Humane Society, one female dog and her off-spring can produce 67,000 dogs in six years.

Last year alone, the program crew spayed and neutered more than 6,000 cats and dogs.

Teri also saves animals from certain death, taking them from our local shelters to be adopted from The Amanda Foundation's No Kill Facility in Beverly Hills

"It's not work when you love it, you know, and I do," Teri says. "And it fulfills me. I feel spiritually fulfilled. I tell people, I say 'There are very few guarantees in your life,' but when I help someone adopt a dog or a cat, I can guarantee them that that creature is going to put love in their life."

Charley was a "dead dog walking" when Teri rescued him from a south L.A. facility on his way to the euthanasia room.

He now lives with actress Mischa Barton!

Ellen DeGeneres has adopted cats from the foundation. And Teri's old "Knot's Landing" buddies Lisa Hartman Black and Nicollette Sheridan are among The Amanda Foundation's celebrity supporters.

Many of Teri's friends are four-legged ones living at The Amanda Foundation.

Bobo, now living at the foundation, needs a home. So does Captain Crunch.

Teri loves helping animals. And while she will act again, she doesn't miss her old life.

"When I put my head on the pillow at the end of the day, it's not what fills me with joy," Teri says. But knowing that I've got an appointment with Captain Crunch the next day and he might go home to a new home, that makes me smile!"