Ingredients for an Optimal Life
In the past few decades, dog and cats have moved from the backyard to the bedroom. We celebrate their birthdays, have nanny cams so we can check on them when we are away, include them on our holiday cards and spend more time trying to figuring out what to feed them than we spend on our own dining choices.
If you are like most pet parents, a trip to the pet store can be overwhelming when you gape at the rows upon rows of pet food choices….premium, organic, grain free, free range, holistic, raw, natural…what does it really mean?  Should cook your own food? Who do you turn to for credible information…the kid at the pet store, Dr. Google? 
So step away from that bag of food, put down that can of pet food and relax for the next ½ hour with your favorite dog or cat by your side for a pet food primer by Dr. Oscar Chavez, Chief Medical Officer at Just Food For Dogs.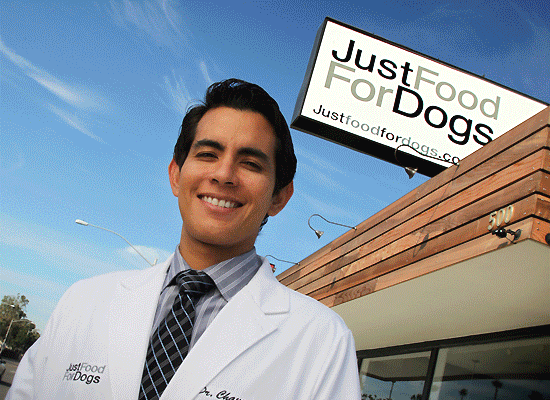 Dr. Oscar E. Chavez is a veterinarian and educator with a progressive career founded upon a solid committed to pet advocacy and, above anything else, integrity, education, and sound veterinary principles. Currently, he is the Chief Medical Officer and Senior Formulator at JustFoodForDogs LLC, whose daily mission is to help as many pets as possible live longer, healthier lives through proven, balanced, whole food diets.

Dr. Chavez graduated in 2006 from the Royal Veterinary College, University of London, and started his career with Banfield, the world's largest veterinary practice, where he became Chief of Staff. In 2009, he joined the faculty of the Animal and Veterinary Science department at California State Polytechnic University, Pomona. There, he was Director of the Animal Health Science veterinary technician program from 2010 – 2013, and remains an adjunct faculty and researcher, and professor of veterinary clinical nutrition. Additionally, he served as a member of the Multidisciplinary Committee and the Registered Veterinary Technician Committee for the California State Veterinary Medical Board. In 2012, Dr. Chavez completed a Master's degree in Business Administration (MBA) from the University of California at Irvine.