A Freedom Flight Airlift for Shelter Dogs. Yes! Come Celebrate a 50 Dog Send-Off!

Sounds like a homeless dog's dream, but its true! Jan Folk has created a working operation and is living her mission to airlift dogs from high-risk LA shelters to forever homes in Canada. And, she does this throughout the year in conjunction with freedom flight celebrations and send-offs at her Orange Dog Bar and Grill. 100% of the proceeds go to help homeless animals. Of course! Jan shares her amazing vision and invites us all to come celebrate a 50 dog send-off this month. This deserves a giant Woof and gives us all mega Super Smiles!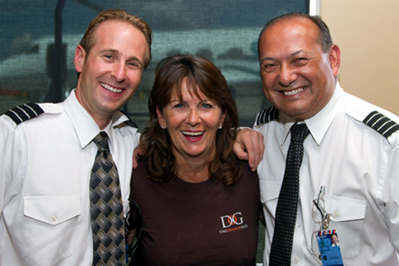 Jan has extensive experience in various business settings. For over 35 years she has offered creative solutions in different industries and utilized her resources and networks to aid in any of her philanthropic projects. Her desire to become involved in the restaurant industry was cultivated in childhood and has now become a reality.

Orange Dog Bar and Grill opened last year with a mission…to give back to their community. The restaurant sells merchandise where 100% of the profits support their cause, Orange Dog Inc. Customers can dine in the California-style restaurant and enjoy The Dog Burger while sipping an Orange Dog Ale, or they can hang in the "Dog Lounge" for a swanky Dog Martini! Jan Folk, the restaurant's owner, even showcases a dog wall of fame where patrons can hang a photo of their four-legged friend.

Orange Dog Inc. is a nonprofit organization committed to improving the welfare of dogs in need. Purchasing eco-friendly products from Orange Dog Bar and Grill and the Orange Dog online store, which features a selection of high-quality dog accessories, supports life-saving flights for dogs in high-kill Los Angeles shelters. These Freedom Flights, arranged by Folk, transport dogs from local shelters to reputable shelters and humane societies in Canada where they will have a better chance for adoption.