Can Lab Puppies Save the World? Disney's Little Labs in 'Treasure Buddies' Can!... with Human Star, Edward Herrmann!

The Little Labs from Disney's "Buddies" series are back! This time in Treasure Buddies with their human star, Edward Herrmann. Edward joins us to share their film adventure where the puppies 'save the world!' and to talk about his real life pet loves: dogs, horses and a turtle!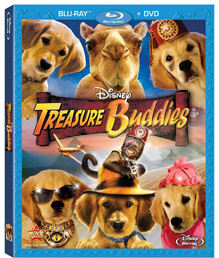 EDWARD HERRMANN (Dr. Phillip Wellington) - Tony and Emmy Award-winning actor Edward Herrmann boasts an impressive career that spans more than 30 years in the theatre, in films, and on television.
His work on Broadway includes "Mrs. Warren's Profession," for which he won a Tony Award; "The Philadelphia Story," for which he earned a Tony nomination; "Plenty" and "Love Letter."

His feature film roles include Nixon, The Purple Rose of Cairo, The Great Gatsby, Annie, Reds, The Great Waldo Pepper, The Day of the Dolphin, Big Business, The Paper Chase, The Cat's Meow, The Emperor's Club, Intolerable Cruelty and Martin Scorcese's The Aviator.
In 2007, Edward finished work on the series, 'The Gilmore Girls" in which he starred as the patriarch, 'Richard Gilmore.' He was most recently seen guest starring on "The Good Wife," "Drop Dead Diva," "Law & Order," "Better With You," "30 Rock," recurring on ABC's hit show, "Grey's Anatomy," and on NBC's "Lipstick Jungle." Edward also appeared in a six-episode story arc on "The Practice" which earned him a 1999 Emmy Award. He also guest-starred in the 200th anniversary episode of "Law & Order" and in a recurring role on "Oz." Herrmann received additional Emmy nominations for his work on "St. Elsewhere," the movie "Concealed Enemies" and "Eleanor and Franklin: The White House Years." Highlights of his television movie credits include "A Love Affair: The Eleanor and Lou Gehrig Story" and "Last Act is a Solo."