The Golden Collar Awards Red Carpet!

The Academy Awards for Dogs? Yes! The Golden Collar Awards! We're on the Red Carpet talking with Blackie, the Doberman from the Academy Award winning film, Hugo; Brigitte, the French Bulldog from TV's Emmy wining Modern Family; and Uggie, the Jack Russell who stole the show and our hearts in the 2012 Academy Award's Best Picture, The Artist. We also talk with the dog lovin' human stars like The Artist's Missi Pyle and Oscar Nominee James Cromwell; Emmy Nominee, Wendie Malick, from Hot in Cleveland; and Genesis Awards Nominees Shorty Rossi and pit bull Hercules from Animal Planet's The Pit Boss along with many more four and two legged stars! Woof! A Super Smiley Adventure goes to the dogs!... On the Red Carpet!
Also featured in this episode are: Pauley Perrette, Robert Vince, Jacquelyne Emerson, Iliza Schlesinger, Alexander Newton, Lu Parker, Laura Nativo and Uggie!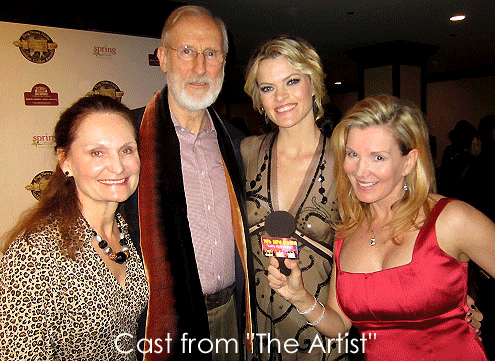 Making Pet Industry & Hollywood History
On Monday evening, February 13th in Los Angeles, Dog News Daily's 1st Annual Golden Collar Awards Show™ made Hollywood, pop culture & pet industry history by becoming the 3rd most watched & talked about Awards Show surpassed in popularity and name recognition by only the 84th Annual Academy Awards® and 69th annual Golden Globe Awards®.

Watched by Over 150 Million Dog Lovers & Owners
The 2012 Golden Collar Awards™ was seen and read about by an estimated worldwide audience of over 150 million dog lovers and owners making it the most popular dog event ever held; and the most powerful national & international branding platform ever created for the pet industry as well as one of the top 3 promotional platforms for any women-targeted brands.

The 2 hour show, referred to around the world as "the Oscars® for Dogs," was broadcast live on The Hollywood Reporter's website to its 5 million subscribers; and was covered by over 75 broadcast news crews from over 25 countries as well as by every major entertainment and pet news organization in the world. Over 150 million people either watched or read about the 2012 Golden Collar Awards™ Show in the over 5,000 broadcast, print and online news stories.