The Genesis Awards Presented by the Humane Society of the United States! Stars Walk The Red Carpet to Shine the Spotlight on Animals

The Genesis Awards presented by the Humane Society of the United States could be described as The Academy Awards for Media that speaks for and celebrates animals. Oprah, Ellen and Paul McCartney are past winners, and tonight we're on the Red Carpet talking with a universe of luminaries including Academy Award winner Cloris Leachman, the smoldering hot Ian Somerhalder from The Vampire Diaries, Wendie Malick from Hot in Cleveland, and stars from The Office, The Mentalist, Castle and many more including Jack Russell Uggie from The Academy Award's Best Picture Winner, The Artist.
And... A Super Smiley Adventure wins an Honorary Mention at The Genesis Awards! Four Paws Up for Humane Society of the United States, the Media, Hollywood and Super Smiley for shining the spotlight on animals! This is a Mega Super Smiley Adventure.
Appearing in this episode: Ali Hillis, Angela Kinsey, Beverly Kaskey, Carrie Ann Inaba, Cloris Leachman, Colbie, Callait, Dominic Scott Kay, Elaine Hendrix, Fiona Gubelmann, Ian Somerhalder, Jason Ritter, Jill Rappaport John Huertas, Lu Parker, Owain Yeoman, Paul Fong, Pritish Nandy, Rose McGowan, Seamus & Juliana Dever, Tom Garrigus, Uggie, Wendie Malick.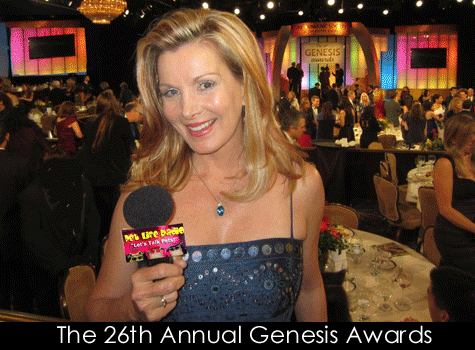 The HSUS honors individuals in the news and entertainment media for creating outstanding works that raise awareness of animal protection issues. Now in its 29th year, the HSUS Genesis Awards are presented in film, TV, print, and online. The media, in all its diverse forms, both reflects and changes societal attitudes and has the power to deliver animal protection issues to vast audiences in the blink of an eye.