Girl on Fire! Actress Ashley Bell – Independent Spirit Awards! MTV Movie Awards! and Love and Bananas for Elephants!

Ashley Bell, critically acclaimed actress who won nominations for an Independent Spirit Award and MTV's Movie Awards' Best Supporting Actress for 'The Last Exorcism,' claims her new role as Director of 'Love and Bananas' a documentary that speaks up for elephants. She joins our adventure to share the spirit of these gentle giants. She will soon be working with Danny Glover and on 4 additional feature films... and has three films being released in March! Four Paws Up!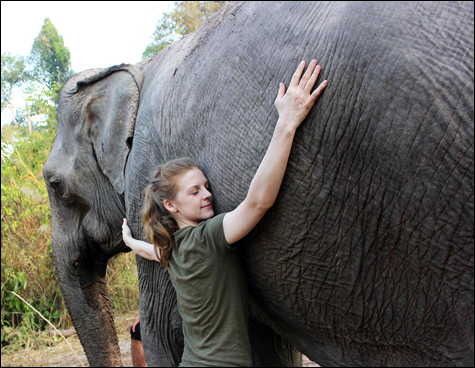 Ashley Bell made her feature film debut in Lionsgate and Strike Entertainment's thriller, "The Last Exorcism." Her performance garnered her an Independent Spirit Award nomination for Best Supporting Actress and an MTV Movie Award nomination, while the film grossed nearly $70 million worldwide. The New York Post praised Bell's performance as "Oscar-worthy" and one of the 10 best performances of 2010 for her extraordinary portrayal of the possessed Nell Sweetzer, which she will reprise in the highly anticipated sequel, entitled "The Last Exorcism Part II," set to be released nationwide on March 1, 2013.

In 2012, Bell starred in Doug Aarniokoski's post-apocalyptic thriller "The Day," which premiered at the Toronto International Film Festival. Upcoming projects include Norry Niven's romantic drama "Chasing Shakespeare" opposite Danny Glover; the noir feature film "Sparks," based on the graphic comic; "The Marine: Homecoming," along with Neil McDonough; and the romantic comedy "The Bounceback," directed by fellow Spirit Award nominee Bryan Poser. Bell is passionately involved with Elephants In Crisis, and is in pre-production to produce and direct a documentary depicting the capture of two Asian elephants from a logging facility in Cambodia, and their subsequent release into the Cambodian Wildlife Sanctuary.

Bell's voice has been featured in several top-selling video games, including the lead role of Erline in Sony PlayStation's "Sorcery" and The White Queen in Disney's "Alice in Wonderland." Her television credits include appearances in "The United States of Tara," "Grow," and "CSI: Crime Scene Investigation."

Bell, born and raised in Los Angeles, is the daughter of actor/voice animator Michael Bell and actress and Groundlings co-founder Victoria Carroll. She studied acting and directing at Cambridge University, where she was awarded "Best Actress" for her portrayal of "Ophelia." Bell later graduated from NYU's Tisch School of the Arts with honors, and was mentored by Oscar nominee Kathleen Turner.