Super Heroes, Super Stars, Super Dogs! The Hero Dog Awards presented by The American Humane Association!

Saving troops, saving lives, and helping us embrace the lives we have, the Hero Dogs are here! The Hero Dog Awards strut out the country's top K9 Heroes along with the most brilliant stars to shine their light on Dogs. Icon Betty White, Academy Award Nominee Ryan O'Neal, funny lady Jennifer Coolidge, Criminal Mind's AJ Cook, NCIS Pauley Perrette, and "Positively" Victoria Stilwell join us along with even more dog loving celebrities and K9 Heroes for celebration and inspirations presented by The American Humane Association and televised on Hallmark Channel. And, Pet Life Radio's Super Smiley is the Hero Dog Awards Spokes-Dog!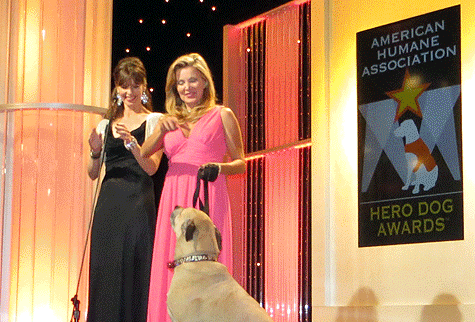 The American Humane Association Hero Dog Awards™ were created in 2010 to celebrate the remarkable bond between dogs and people in a positive way.
This annual national competition searches out and recognizes America's Hero Dogs, who unconditionally avail themselves to us in so many important ways, whether it's saving lives on the battlefield, lending sight or hearing to a human companion, providing therapeutic support to children suffering from cancer, or just greeting us with a wagging tail at the end of a hard day.
Heroic hounds may be nominated by anyone at least 18 years of age in one of eight categories: Law Enforcement & Arson Dogs; Service Dogs; Therapy Dogs; Military Dogs; Guide Dogs; Search and Rescue Dogs; Hearing Dogs; and Emerging Hero Dogs (for ordinary dogs who do extraordinary things or are just heroes to us). Finalists in each category will be selected by the American public via online voting, and following the announcement of the eight finalists, the public and a special blue-ribbon celebrity judging panel will have the chance to name the top American Hero Dog of 2013.
Every finalist will be presented with a Hero Dog award for their feats of loyalty, bravery, and love, and win $1,500 for a selected charity partner. In addition, one finalist will walk away with top honors as the winning American Hero Dog for 2013, securing an additional $5,000 for their charity partner. The total approximate retail value of all prizes is $57,000 but the recognition is priceless.