'Son of God' Producer and Star, Roma Downey, agrees: Dogs are Little Bits of Heaven

Roma Downey won our hearts on CBS's Touched By an Angel with her Emmy nominated role of Monica, the Angel whose Heavenly glow helped light the way. This powerful, passionate and beautiful woman of faith shares her personal insights, love of animals and a behind the scenes look at the making of2013's most successful mini-series, The Bible, and her newly released phenomenal film success, Son of God. Her production company, Lightworkers Media, creates these amazing works, her role of Mary exemplifies its passionate mission, and with two BIG dogs at home, Roma Downey knows first hand that dogs can be our own personal angels of peace.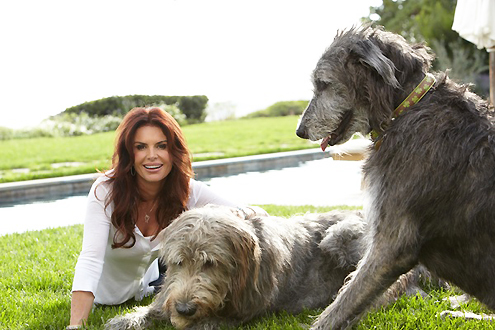 A celebrated, Emmy-nominated television and stage actress, Roma Downey is most known for her decade of work as the tenderhearted angel, Monica, in over 200 episodes of Touched by an Angel (1994) to a weekly audience of over 20 million.

Her work has inspired millions of people and she has garnered best actress nominations for both the Emmy's and the Golden Globe Awards.

Roma Downey was born on May 6, 1960 in Derry, County Londonderry, Northern Ireland, UK. She was raised in Northern Ireland. Roma has a B.A. from Brighton University and trained as an actress at the Drama Studio of London. Before moving to the United States she performed with The Abbey Theatre, Irelands National Theatre, and came to the USA with a production of "The Playboy of the Western World" and was nominated for the Helen Hayes Best Actress Award in 1991. On Broadway she made her debut opposite Rex Harrison in "The Circle", and performed with the New York Shakespeare Company, in productions by Shaw and Ibsen at the Roundabout Theatre Company and the Geffen Theatre in Los Angeles. Roma also played Jacqueline Kennedy in the Emmy award winning six-hour mini series for NBC called A Woman Named Jackie (1991) and was listed as one of Peoples most beautiful people of the year and hosted Saturday Night Live.

Ms. Downey not only starred in, but executive produced seven television movies for CBS. Some of which were "Borrowed Hearts" with Eric Mc Cormack, "Second Honeymoon" with Tim Matheson and "Monday After the Miracle". She hosted a series for the PAX Network called "Its A Miracle", has authored the children's book, Love is a Family and released an inspirational CD called "Healing Angel". She recently starred along side John Schneider in "Come Dance at My Wedding" and will soon be seen in "Keeping Up With The Randall's" both which will be on the Hallmark Channel.

A producer, author, and philanthropist, a devoted mother and the wife of producer Mark Burnett, Ms. Downey is a recent graduate from USM with a Masters in Spiritual Psychology. Ms. Downey's passions reach far beyond acting and producing, for many years she has been an active volunteer with the charity "Operation Smile". Operation Smile provides free surgeries for children who suffer from cleft lips or cleft palettes. Roma has been a big supporter and an active spokesperson for 15 years. She has also traveled on many international medical missions to Vietnam, Honduras and Nicaragua and recently was accompanied by her husband Mark Burnett and their three children to a mission in Jordan.

Recently, Roma has teamed up with writer Phil Lollar ("Adventures in Odyssey") to produce an animated series, "Little Angels". The programs are built with solid Christian values and wonderful life lessons told in a way that young children will understand them. It has already received numerous endorsements, including the Seal-of-Approval from the international organization, MOPS (Mothers of Preschoolers).

In Her latest project she is teaming up with her Husband and renowned producer, Mark Burnett, to tell the story of "The Bible" on the History Channel. This five-part, 10-hour docudrama will air in 2013. The series will be shot on location and use state-of-the art visual effects. Using up-to-the-minute production techniques, The Bible series promises to be landmark television programming, combining unforgettable stories with live action and state-of-the-art computer-generated imagery (CGI). From Genesis to Revelation, History will illuminate The Bible with revealing insights into the life and times of some of its most iconic characters. It will feature some of the most famous stories ever written - from Noah's Ark and the Exodus to Daniel in the Lion's Den to the crucifixion and resurrection of Jesus. The Bible continues to be the best-selling book in America every year and last year alone, more than 25 million copies were sold.