Afghanistan War Dog Hero, Ivy, Reunites with her Marine with the Help of Mission K9 Rescue

Hear the amazing journey of Afghanistan War Dog, Ivy, who continued saving troops as a bomb detection dog after her Marine handler returned to the US. Mission K9 Rescue President, Kristen Maurer, shares their mission to retrain, re-home and sometimes "re-career" these hero dogs backed by the belief that we owe it to them to ensure they are taken care of. When Ivy was retired, Mission K9 Rescue reunited her with her original Marine handler, Sergeant Steve Heath. Marine Sergeant Heath, Ivy and Kristen join us to share their amazing story.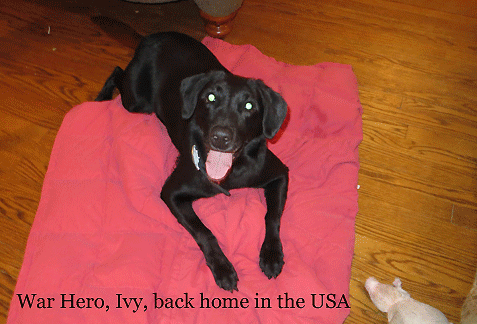 Kristen Maurer, President of Mission K9 Rescue
Mission K9 Rescue is a 501(c)3 status pending organization whose mission is to provide assistance with transportation, re-homing, training and job placement for all working dogs. They are also committed to providing medical care and end of life benefits, as well as raising awareness for any and all retired working canines in need. While Kristen is the president of Mission K9 Rescue, this organization is a team mission. Partners Louisa Kastner, Bob Bryant and Ruby Ridpath are dedicated to these incredible canines and to furthering their mission. The organization has only been in existence since December 2013, but every member of the team has been rescuing working dogs since 2008 and has a proven track record in this arena. Since December 2013, they have already rescued and re-homed working dogs ranging from retired police canines, retired Military Working Dogs and retired Contract Working Dogs. They have also helped a special contract working canine transition from a Military career into a career as a Police Officer. These amazing canines selflessly put their lives on the line to protect and care for our Soldiers, our Police Officers and our citizens, and Mission K9 Rescue believes that we owe it to these heroes to afford them the same respect.
Marine Sergeant Steve Heath and Ivy
Marine Sergeant Steve Heath and Ivy served in Afghanistan where Ivy worked as a bomb detection dog saving her troops. We thank them for their service to the United States and for risking their lives for us.