Rock Star Shelter Director, Marsha Williams, is the True Life Hero for Burned Dog, Toby!

Regularly raiding puppy mills, placing 1000's of dogs, and recently saving another burned dog, savaged at the hands of an abuser – that's Marsha Williams, Rock Star Shelter Director of North Carolina's Guilford County Animal Shelter. Marsha has been honored as one of the country's top shelter directors by the Humane Society of the United States. She has hosted The Super Smiley Flash Mob 4 Pet Adoption and was the real life basis of the shelter director character in the film, 'Susie's Hope.' This courageous story of burned dog, Toby, shares a hero dog's journey towards health and a forever home. Meet these true life heroes for animals on this real life Super Smiley Adventure.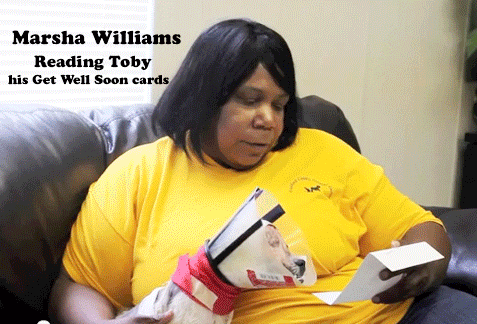 The Guilford County Animal Shelter is the only public shelter in Guilford County. We are operated by a non-profit organization the United Animal Coalition. The United Animal Coalition has operated the Guilford County Animal Shelter since 1998. All donations made to the Guilford County Animal Shelter are tax deductible.
The United Animal Coalition is a professional, caring organization devoted to saving the lives of lost, abandoned and surrendered animals of Guilford County, N.C. We strive to humanely care for all the animals and work diligently to return lost animals to their owners. We are committed to making every adoption of every animal a positive, permanent experience for both the animals and the pet owner.
We also conduct community awareness programs such as education on pet care and responsibility, as well as pet therapy at senior residence homes.
The United Animal Coalition is committed to placing every adoptable animal into a new home. When we have an animal that cannot be placed by our organization, we work collaboratively with other rescue organizations to help place specific dogs, cats, livestock, exotic and wildlife. We will contact rescues that we have visited, or have received their license and other information to satisfy their good standing, and work with them for placement.
The Guilford County Animal Shelter is committed to every animal that arrives at our facility. Our staff is devoted to treating every animal with a curable illness in order to help it get adopted. We are proud to have a 97% success rate with dogs and a 78% success rate with cats.