What Makes A Hero Dog? Meet American Humane Association Hero Dog Awards Winner – Pit Bull Elle!

Pit Bull Elle is a big girl and could be very intimidating if it weren't for her sweet nature and mission to work with children as a reading dog, therapy dog and ambassador for dog safety. This gentle giant with an extraordinary message was named Top Hero Dog at the American Humane Association Hero Dog Awards! Meet her beautiful person Leah Brewer and hear what it takes to be a hero dog. Super Smiley chimes in too, because our co-Host, Super Smiley, is the National Spokes-Dog for the American Humane Association Hero Dog Awards!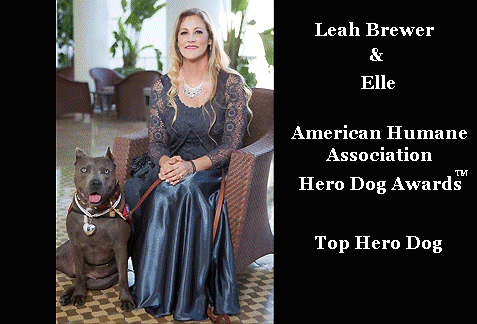 Elle is an amazing companion, she is my best friend and I am blessed everyday to have this little angel in my life!

Elle always understood to be calm around the elderly and children. The day we meet Junior changed our lives forever. We saw him most mornings while out on our walks and normally just waved in passing, but Junior decided to stop and chat that day and I noticed Elle just sitting there. Not jumping, just sitting and very politely I might add, just waiting, I was shocked! I knew at that moment she was meant to do more and I wanted to unlock her potential.

We signed up with an approved AKC tester for 4 prep classes for the Canine Good Citizen test. Elle was able to make friends with lots of other dogs and people. It was a great way for her to meet new friends in a structured environment. We practiced as 5 teams and then took the CGC test and passed with a perfect score. Then it was on to the Therapy Dog test, which we passed and we were recorded as a Pet Therapy Team three months later.

We started working right away volunteering. I hoped Elle could help others in the community. We routinely visit residents at a retirement community and she has a few favorites that really enjoy seeing her. We also visit kids at the Boys and Girls Club, sometimes they read and other times they learn about how to be safe around dogs.

I created a Therapy Dog Reading Program at the library called "Tail Wagging Tales." The children love reading and Elle loves listening to a good story. Occasionally, we are invited to participate in public events and I am happy to be a part of educating and providing awareness, and this gives Elle a chance to shine.

The local paper did a write up Pit bull visit to lift police spirits. The Police Department had recently made an arrest in a gruesome dogfighting case and the Captain thought Elle could help erase the negative images in the officers' minds.They got a chance to interact with her - a friendly, healthy, happy pit bull - and she got to meet and play with the Police Chief.

Elle helped Dylan, a 6-year old, overcome his fear of dogs!
At the start of Tail Wagging Tales, Dylan 5 years old, came to read to Elle every week. His mom signed him up for our reading program at the library to help him overcome his fear. At first Dylan did not want to be close to her, but after months of developing a friendship, a great thing happened: Dylan overcame his fear and took Elle for a walk!

We were invited to visit Vaughan Elementary School to talk to the children about therapy dogs and dog safety education. The children loved the visit so much they decided to make it a regular visitation inviting us twice a month for reading sessions.

I wanted to network with other passionate pet owners in the community and so Mutt Struts just crossed into my path. We walk on Sundays to help connect other responsible pet owners and get our pets out and socialized. I am hoping to have interest in the CGC and more potential therapy dogs. I would eventually like to have a therapy dog team one day.

Mutt Struts turned in to Roanoke Valley Pack Walks and we met lots of local area friends and dog lovers. We were joined as a group of passionate people to create positive changes in our community. Via adoption events, fundraisers, and education programs.

Elle was invited to visit with the Chaloner Critter Club to share with her little friends about her job and this was a perfect opportunity to educate students and adults about dog safety.

Therapy Tuesday is now filled all month with Tail Wagging Tales at two schools Vaughan and Chaloner Middle School invited us to start our reading program!

Team Elle wanted to share special recognition to a student in 2013 going above and beyond to help the animals in the Roanoke Valley. Hannah Lace from the Critter Club was honored with the Pawin It Forward Award for her humanitarian efforts.

After years of volunteering, I find people are still amazed that Elle is so well-mannered which opens up the door for a friendship. Seeing is believing! All of the opportunities for real life meet and greets with Elle helps people understand that she just wants to be friends.

THANK YOU for believing in Elle and giving us a chance!!!