Buffy The Vampire Slayer's Kristy Swanson Rocking It for Rescues in her New Christmas movie, 'A Belle for Christmas!'

The beautiful and talented Kristy Swanson who has starred in some of our pop culture's favorites: 'Buffy The Vampire Slayer,' 'Ferris Bueller's Day Off' and 'Law and Order Criminal Intent' is rocking it for the rescue pups with her new Christmas movie, 'A Belle for Christmas!' In this one she gives Cruella Deville a run for her money as the villainess trying to steal Belle and ruin Christmas! Kristy tells us about her real life love for animals and fills us in on working with the "Super" Dean Cain! Yep, it's A Super Smiley Adventure!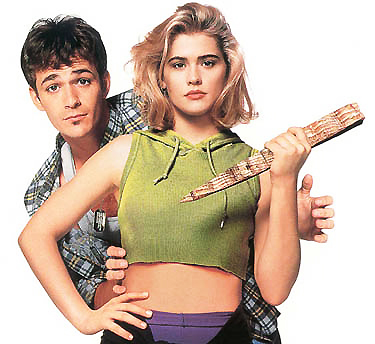 In 2006 Kristy Swanson skated into television screens across the country, appearing in the reality television show Skating with Celebrities. Swanson paired with former Olympian Lloyd Eisler to take home the crown, as they defeated 5 other teams of celebrities and skating pros.
Swanson has a long list of guest-starring television appearances to her credit. Most recently she has appeared in episodes of Just Shoot Me!, CSI: Miami and Law & Order: Criminal Intent.
In 2002 the beautiful and talented actress literally pulled off something unexpected, as she graced the cover of the November 2002 PLAYBOY with an eight page celebrity pictorial. As for PLAYBOY, Swanson reflected, "I could not pass up the opportunity to work with the renowned photographer, Phillip Dixon, and by the look of my pictorial I think made the perfect choice."
Swanson appeared in the 2000 film Dude, Where's My Car where she portrayed Christie Boner, the 'dream girl' of the 'dudes,' Jesse and Chester (played by Ashton Kutcher and Seann William Scott). Previously, Swanson co-starred with Adam Sandler in the summer blockbuster comedy, "Big Daddy." In the movie, Swanson starred as 'Vanessa,' the long-time girlfriend of 'Sonny Koufax' (Sandler), who he is desperately trying to impress.
Swanson is probably best known for her starring role in the Twentieth Century Fox feature film, Buffy the Vampire Slayer. "When the movie came out, it was enormously successful and I was thrilled. At the time there were no films where girls had a heroine to look up to," says Swanson. The film remains a cult classic to this day and was spun off into the popular WB television series Buffy. Swanson was born in Mission Viejo, California, and began her professional career at the age of nine working in television commercials. By the time she was 13, she had more than 30 commercials to her credit, and had landed her first television series, "Dreamfinders," for the Disney Channel.
Swanson soon convinced her parents to move to Hollywood so she could pursue her dream of acting. She landed small roles in two of John Hughes' films Ferris Bueller's Day Off and Pretty in Pink. Swanson went on to star in a long list of films that include: Flowers in the Attic with Academy Award-winning actress Louis Fletcher, Hot Shots with Charlie Sheen, The Program with James Caan, The Phantom opposite Billy Zane and Eight Heads in a Duffle Bag, starring Joe Pesci and David Spade. Tackling her most controversial role, Swanson portrayed a college student discovering her sexuality in John Singleton's film, Higher Learning.