The World Dog Awards! Delivers The Stars: Canine and Human - For the CW Television Network Special - And We Are Live on the Green Carpet!

Imagine an 'Academy Awards' honoring just dogs! We are there! Live on the Green Carpet for the CW Television Network Special presenting the inaugural "World Dog Awards!" We talk to icons like Lassie, to stars like Modern Family's Stella and Annie's Sandy, and to Nominees including service dogs, rescues and silly dogs who created social media frenzies. George Lopez hosts! The smoldering Ian Somerhalder from Vampire Diaries inspires! And we get up close and personal with dog lovin' stars and their canine escorts like Twilight's Nikki Reed, Shark Tank's Robert Herjavec, Baby Daddy's Melissa Peterman, The Property Brothers, Drew and Jonathan Scott, N'Sync's Lance Bass, Sex & Drugs & Rock N Roll's Elaine Hendrix, Royal Pains' Mark Feuerstein, Disney's G Hannelius, Kevin Zegers, Katherine Schwarzenegger and more! Each one A Super Smiley Adventure!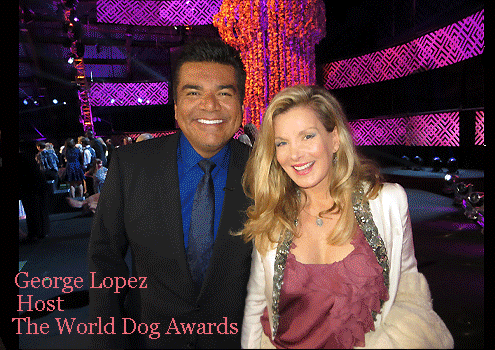 The World Dog Awards
The CW Network celebrates man's best friend with a brand new two-hour television event, THE WORLD DOG AWARDS, which promises to combine the glitz of the Hollywood award season with America's affection for our lovable canine companions. THE WORLD DOG AWARDS makes its debut on The CW in January, 2015.
For the first time, dogs will be celebrated for their work in entertainment, health services and the military, along with everyday dogs who found fame on the internet. Dogs of every size and breed will gather together at the aptly named Barker Hangar in Santa Monica, California to be recognized for their achievements in film, television, commercials and animation.
The event kicks off with Hollywood's dog-loving stars taking their own pooches down the green carpet. The stars will present and receive awards for fun categories such as "Best Actor in a Supporting Role to a Dog," and there will be musical performances by some of today's biggest acts. The category of "Outstanding Achievement in the Field" honors dogs that have risked their lives for their humans, shown amazing compassion for other animals, or dedicated their lives to service for those with health issues. Their heartwarming stories will be recounted and the honorees will be presented with special (and edible) awards during the broadcast. Viewers will also be able to vote for their favorite canines – more information on voting will be announced at a later date. Before and during the award show, the area outside the Barker Hangar will feature a dog-related expo, complete with vendor booths, dog demonstrations and more.
George Lopez
George Lopez is a multi-talented entertainer whose career encompasses television, film, standup comedy and late-night television. For two seasons, Lopez hosted Lopez Tonight, a late-night television talk show on TBS, which represented Lopez's return to series television after co-creating, writing, producing and starring in Warner Bros. Television's groundbreaking hit sitcom George Lopez, which ran for six seasons on ABC. George Lopez remains a hit with viewers in syndication on both broadcast stations and cable's Nick at Nite, ranking as one of the top-rated shows on the network and among the top five comedies and top 20 weekly programs in syndication. George Lopez is one of only four off-net comedies to post weekly ratings gains among households from the 2007-'08 to 2008-'09 season.
Lopez will return to television in the multi-camera ensemble comedy Saint George in January 2014. The show will revolve around the chaotic life of a recently divorced working class Mexican-American (Lopez) turned successful entrepreneur. Starring and co-created by Lopez, Saint George will air on FX and will be produced by Lionsgate Television in a 10/90 deal with Debmar-Mercury.
Lopez most recently released his second memoir, I'm Not Gonna Lie And Other Lies You Tell When You Turn 50, where he tells the unabashed and hilarious truth about aging – as only he can. In 2012, Lopez debuted his third solo stand-up special It's Not Me, It's You on HBO. Lopez also voiced animated characters in a string of animated blockbuster films including Thurman in Escape from Planet Earth opposite Jane Lynch and Sofia Vergara, Rafael in Rio, along with Jamie Foxx, Anne Hathaway and Jesse Eisenberg, Grouchy Smurf in The Smurfs 1 and 2, and The Beverly Hills Chihuahua 1, 2, and 3. His other most recent film credits include the box-office hit Valentine's Day directed by Garry Marshall, Swing Vote, Henry Poole Is Here and Balls of Fury.
In August 2009, Lopez filmed his second HBO Comedy Special, Tall, Dark and Chicano, which was nominated for a GRAMMY in the category of Best Comedy Album. He headlined his first HBO Comedy Special, America's Mexican, in 2007. Lopez has also performed as part of HBO and TBS's Comic Relief 2006. His acclaimed comedy concert, Why You Crying?, debuted on Showtime in 2004. He released his third standup CD, El Mas Chingon, in 2006, which also earned Lopez a GRAMMY nomination in the category of Best Comedy Album. Prior to that, in 2004, he was nominated for a GRAMMY in the same category for his CD Team Leader. In May 2004, his autobiography, Why You Crying?, entered The New York Times Bestsellers List top 20. The book was co-written by Emmy winning writer and sportscaster Armen Keteyian. Lopez also was the focus of the award-winning documentary Brown is the New Green: George Lopez and the American Dream.
In 2006, Lopez received a star on the Hollywood Walk of Fame. In addition, Time magazine named him one of the 25 Most Influential Hispanics in America, and the Harris Poll named him one of the Top Ten Favorite Television Personalities. Lopez has made more than 200 television comedy, talk show and hosting appearances, including co-hosting the Emmy Awards and twice hosting the Latin GRAMMYs. In 2001, Lopez hosted a major morning radio show in Los Angeles, becoming the first Latino to headline the key morning slot on an English-language station in one of the nation's top radio markets.
Lopez has received the Manny Mota Foundation Community Spirit Award and was named Honorary Mayor of Los Angeles for his extensive fundraising efforts benefiting earthquake victims in El Salvador and Guatemala. Other honors include an Imagen Vision Award, the Latino Spirit Award and the National Hispanic Media Coalition Impact Award.
The Lopez Foundation, founded by George, was established to create positive, permanent change for underprivileged children and adults confronting challenges in education and health, as well as increasing community awareness about kidney disease, organ donation, and the military. George will be hosting the 7th Annual George Lopez Celebrity Golf Classic on May 5, 2014 which has raised over 2 million dollars to fund The Children's Summer & Fall Transplant Camps, San Fernando Elementary School Toy Drive, and Military programs.