Crazy Dog People Love 'Russell Madness!' The Film!

Oh Yeah, Jack Russell, Russell, lights up the Big Screen, in the new film 'Russell Madness' with a huge Super Smiley Adventure of his own! Meet Director and Executive Producer, Robert Vince, sharing Russell's tale: From escaping a pet store, to finding a forever family, to starring in the wrestling ring world along side his wrestling coach, who happens to be a super smiling monkey… Ending with the greatest lesson of all: love and family. And, pet adoption is front and center!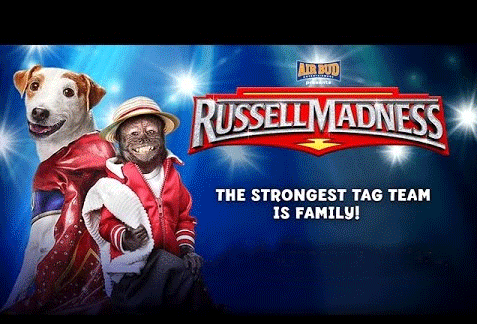 Robert is CEO of Key Pix Productions and best known as the filmmaker behind hugely successful family film franchises, including the "Air Bud," and "Air Buddies". While most directors shy away from making films with kids and animals, Vince has made it his chosen career. His directorial credits all of the hit "Air Buddies" franchise films, "Santa Pups," "Santa Paws," "Chestnut," "Spymate," "MVP: Most Valuable Primate," "Air Bud: Seventh Inning Fetch" MVP: Most Vertical Primate" and "MXP: Most Xtreme Primate." Before Vince launched his indelible directing career, he ran Keystone Entertainment, where he produced, co-wrote and directed more than 33 films, primarily in partnership with Disney, Miramax and Warner Bros. Vince has two sons and splits his time between his two main offices in Malibu. Chances are that if he is not working in Vancouver, he can be found surfing at his favorite break, Big Dume.