The Dog Writers Association of America Awards in NYC!

Founded in 1935, The Dog Writers Association of America celebrates quality writing surrounding dogs... and pets of all kinds! These pedigreed writers pen for magazines, newspapers, books, television and radio! Elaine Gewirtz, the DWAA Vice President and Contest Chair, joins us to talk about the celebrated and glamorous awards ceremony in NYC! And, Super Smiley and I are nominated for our Pet Life Radio show about hero dogs! So we will be there, live… the event coming soon!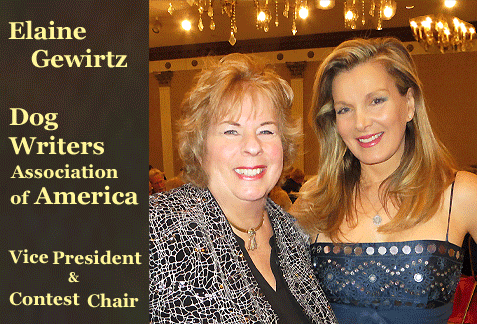 Elaine Waldorf Gewirtz writes about dogs from her home in Westlake Village. She's the award-winning author of nearly two dozen dog books and hundreds of magazine and online articles concerning behavior, care, health, training and rescue. She and her husband also bred champion Dalmatians for many years.