A Prince with The Royal Treatment, A Pie in the Face for Rescue, Jill Rappaport Cross Country for Shelters, K9s Saving War Heroes, The Coolest Pet Hotel Around and 7 Football Fields of Pet Products!

IT MUST BE THE GLOBAL PET EXPO! A Super Smiley Adventure travels Live to Orlando, Florida to meet up with the most happening peeps out for pet rescue, the human animal bond, pet travel, a new pet TV series and ground breaking pet products! An Apex Super Smiley Adventure!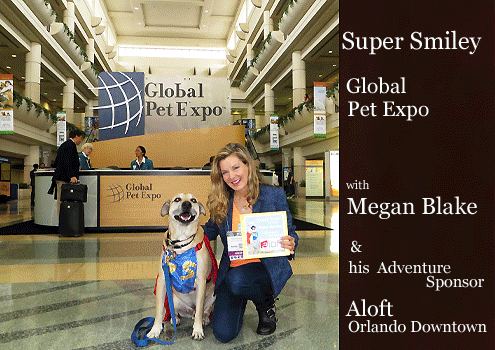 Jill Rappaport
Jill Rappaport has been on TODAY for 20 years. She was the entertainment correspondent for the first 17 of those years, but when her beloved dog Jack got bone cancer, her life and career changed forever.

While chronicling Jack's illness on the show, she realized that animal welfare issues were her calling, and so her path changed. In her popular "Bow To Wow" series, shelter dogs get a makeover and a second chance at life, and through her work, she helped to save hundreds of horses that were severly abused. She also keeps TODAY viewers informed about the latest health trends for pets.
Rappaport is also the best selling author of "People We Know, Horses they Love," and has written three others books, including "Jack & Jill: The Miracle Dog with a Happy Tail To Tell," and "500 Cats."

She has just come out with a clothing line for Pendleton for women and pets, which will benefit the Jack and Jill Fund for animal cancer. Most recently Jill and TODAY received the coveted Genesis Award, which is the Oscars of the animal world, for her reporting on animal issues. Rappaport lives on a farm with her four dogs and nine horses, whom she refers to as her "fur angels."



Prince Lorenzo Borghese
Prince Lorenzo Borghese is a US and Italian citizen who was born in Milan, lived in Rome and outside Paris, and currently lives in New York City. Proud of his genealogy, his storied paternal ancestors include the cosmetic's icon, Princess Marcella Borghese, Napoleon's sister, Paulina Bonaparte Borghese, Pope Paul V (Camillo Borghese) and Cardinal Scipione Borghese, both of whom had an enormous influence on Italian art and beautifying Rome in the 1600s, and who helped finish St. Peter's Basilica.
The Borghese name is displayed throughout Italy including in Florence at the Palazzo Borghese, Siena, where the family began, and Rome where the name is most prominent. Rome's largest Park, Villa Borghese, was owned by the family until 1902 and one of Rome's largest museums, Galleria Borghese, holds the family's art collection. One of Rome's most famous streets is also named after the family, Via Borghese, and the family's crest which is an eagle and dragon can be found in many piazzas throughout Italy.
Lorenzo is also President and co-founder of Animal Aid USA, a not-for-profit organization which through awareness and legislation, aims to stop the inhumane treatment of animals. In July of 2012 Animal Aid USA organized the Amazing Grace Caravan, named after Grace, a dog who survived the gas chamber in 2006. For more information and to sign Animal Aid's petition to end the gas chamber please go to www.animalaidusa.org.