Will Work for Treats
Join Kristi as she discusses training and treats with special guest, Robin Carter from RC Training. All of your basic dog training questions will be answered, plus you'll learn the best healthy foods to use with food-motivated pups. Don't miss this exciting episode of The Doggy Dish!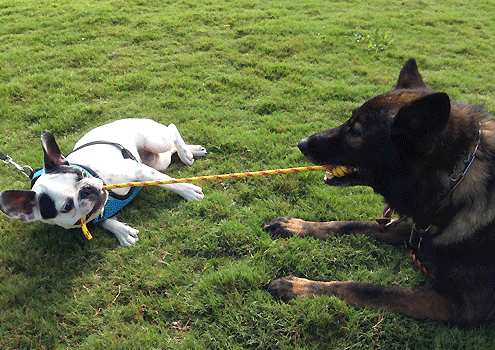 Robin is a mother of three with a husband in the Army. They live outside of Atlanta, GA, where she does most of her dog training. Growing up in Charleston, S.C., her family bred and showed English Bulldogs. She grew up around a show ring and was a junior handler. Once she got older, she knew she wanted to continue working with animals. She moved to Atlanta, and for a while was working for an exotic Veterinarian. She then moved onto small animals at a general practice for about 4 years. For the last 20 years, she has been working at a surgery referral practice. She did dog training off and on until about a little over 12 years ago, when she discovered Schutzhund. Her first dog did not work out well for the sport, but by then she had been bitten by the Schutzhund bug and never looked back. Her newest interest has been animal behavior for the past 5-6 years. She enjoys helping pet families foster and develop the pet/owner relationship. Robin is also the creator of Knuckleballs, which can be purchased at www.pawsitivelywholesome.com. For training inquiries, contact Robin at rctrainingknuckle@gmail.com.