Getting "TANKED" with Wayde King and Brett Raymer
Do you want to have the fish tank of your dreams? Ask Wayde King and Brett Raymer, brothers-in-law, best friends, and the highly successful brains behind their company, Acrylic Tank Manufacturing (ATM). Housed in a 13,000 sq ft. facility located in the center of Las Vegas, ATM has created thousands of conceptual aquariums for high-profile clients. Animal Planet's newest hit show "TANKED," follows the professional "antics" of these creative geniuses and puts a colorful, Vegas-style spin on state-of-the-art aquarium design and construction. Join us, as we get "TANKED" with Wayde and Brett! If you can dream it, ATM can build it. . . .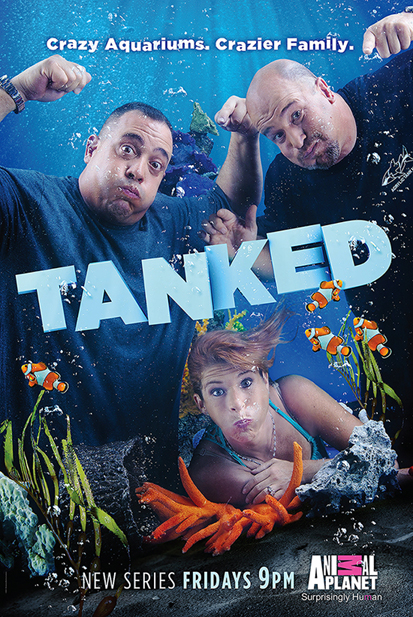 Wayde King, CEO, Acrylic Tank Manufacturing

Wayde King's love of fish began at an early age. Born and raised in Long Island, New York, Wayde has early memories of his mother and biological father, who was a fish dealer, and the multiple tanks they had in the basement of his home. At 14, he was cleaning aquariums in Long Island with his stepfather, Shelly, and over a decade later, he moved to Vegas to work for another company where he built and sold aquariums. The move to Vegas led to the building of a tank for a family that possessed the only thing he loves more than fish: his wife, Heather. Heather's father, Irwin, recognized Wayde's zeal for fish and partnered with Wayde to help him hone his expertise of tanks and fish and grow both into a successful business.

Today, Wayde is living his dream designing and manufacturing some of the largest and most extravagant acrylic tanks in the world. But this isn't just a business, it's a family adventure. By Wayde's side are his wife, his brother-in-law and chief operating officer, Brett, and his father-in-law. Working with family has been very challenging, but Wayde is happy to share the stress and success with the people he loves the most.

Wayde's love of animals doesn't stop at fish. In fact, it's hard for Wayde to name an animal he doesn't love. At home he has a Victorian bull dog named Prada and a Presa Canario named Rolex. At the office, two tabby cats and four large macaws roam freely throughout the warehouse. When Wayde is not working, he often is found scuba diving in his free time. On Wayde and Heather's honeymoon, they went scuba diving in Hawaii and on their second anniversary they went scuba diving in Mexico. When it comes to fish, Wayde is an expert and a perfectionist. With more than 34 years in the business, his goal is to not only keep the customer happy, but the fish as well. Wayde's passion and persistence have brought the business to new heights, and he hopes one day his daughters will be able to enjoy working in the legacy he's created.

Brett Raymer, COO, Acrylic Tank Manufacturing

Brett Raymer is the COO of Acrylic Tank Manufacturing (ATM), and you couldn't build a tank big enough to hold his larger-than-life ideas and personality. Originally from Brooklyn, New York and ever ready to take on a new venture, Brett jumped at the opportunity to help his family create their tank-building dream in Las Vegas. Wayde and Brett started the company before Wayde and Heather were married and the company is still thriving. Known for his ability to wheel and deal and his somewhat impulsive confidence, Brett has brought Wayde some of his most loyal clients. Though some days Wayde wishes Brett would slow down, Brett believes that if you can dream it, ATM can build it. He said seeing the face of someone enjoying a tank is priceless.

Growing up, Brett went to Abraham Lincoln High School in Brooklyn. He excelled in athletics including tennis, football and swimming. Now, Brett prefers sports from the sidelines, bringing his years of experience and enthusiasm to his daughter's volleyball team, which he coaches. He is a single dad, and when he's not caring for fish and fish tanks, he's spending time with his two children, Kayla and Bryce.