A Sea of Problems and Solutions: Fabien Cousteau Discusses Ecological Restoration and his Plant a Fish Programs
Many consider our planet's oceans too vast to be in trouble. But numerous scientific studies are proving that water quality and the lives of many marine—and terrestrial species, including ourselves, are at risk from mankind's waste and climatic influences.
My guest today, Fabien Cousteau, grandson of aquatic pioneer Jacques Cousteau, is himself an ocean explorer, film-maker, renaissance man, and even an optimist. Join us, as Fabien describes life as a Cousteau, his hopes and efforts to jump start ecological renewal through the "Plant A Fish" program, and how, ultimately, we are the solution to this sea of problems.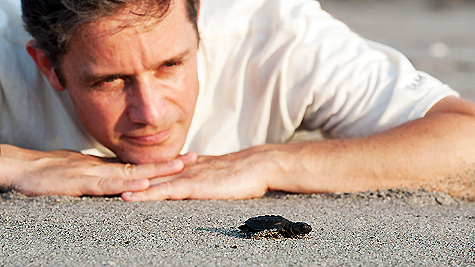 Growing up on decks of his famous Grandfather's ships, Calypso and Alcyone, Fabien Cousteau was destined to work to protect our planet's immense and endangered marine habitats. Fabien champions the family legacy as third generation ocean explorer and filmmaker. From his vast experience in the field, coupled with a degree in environmental economics from Boston University, he has refined a public policy platform grounded by his strong belief that environmental discipline can be the basis for innovative solutions that strike a balance between regional and global environmental problems and the realities of market economies.
Fabien has worked with National Geographic, Discovery, PBS and CBS to produce ocean exploration documentaries from 1998-2006. In 2006, Fabien partnered with his father, Jean-Michel Cousteau, and sister, Celine, for an ongoing multi-year multi-hour series for PBS called Ocean Adventures. In 2010, he launched Plant A Fish, an innovative nonprofit organization designed to empower communities and children to help restore their local water ecosystems through the healthy "replanting" of key marine species.
Current initiatives include restoration projects in El Salvador, New York City, South Florida, Nicaragua and the Maldives. Expansion to Haiti, Dominican Republic, Bahamas, Indonesia and Washington DC is expected in 2013 followed by Greece, California, Mozambique and Nova Scotia in early 2014.
An active writer, he is currently working on a children's book trilogy. Fabien is routinely seen on network television, the Oprah Winfrey Show, Gayle King, and as a guest/ contributor to NBC's Today Show as well as appearing on ABC, NBC, CBS, FOX, CNN, France 2, NPR, MSNBC and many more. He shares his guidance as a member of multiple Boards including SeaKeepers Society, Water Innovation Alliance, Millennium Project, Blue Ocean Film Festival, Plastic Pollution Coalition, One World One Ocean, Points of Light, Antarctic Ocean Alliance, Aquarius Foundation, Bahamas National Trust and the New York Harbor School.
Additionally, he speaks at a variety of global and domestic environmental and water conferences as well as mainstream business conferences such as Bloomberg, BLUE, Google Zeitgeist, Sundance, Tribeca Film Festival, DLD, Rio+20, BiF and TEDx (Los Angeles/ New York/ Rio).
Fabien shares his time between France and the United States (New York City) and when not conducting fieldwork he is riding the planet on a wind surfer, mountain bike or piloting a plane or taking a hike with Heidi, his four-legged companion. His passion for vintage motorcycles sometimes takes him to the quiet of his garage where his cellphone does not work and he can dive into the zen of breathing life into these "basket cases."