The Hypnotic New Wave of Aquarium Keeping: Jellyfish Art
Jellyfish have mesmerized us for centuries. Their beauty, fragility, and grace, combined with a stinging defense, have made jellyfish keeping a major challenge and, for a time, only possible at public aquaria.
My guests today - Jeff Turner, his son Joe Turner, and Jon-Michael Degidio - through their company Jellyfish Art, have changed all of that. This amazing group of innovators and life-long hobbyists has untangled the mysteries and brought jellyfish keeping into our homes, offices, restaurants, and schools.  Join us, as we discuss this hypnotic new wave and the secrets of jellyfish with Jeff, Joe, and Jon.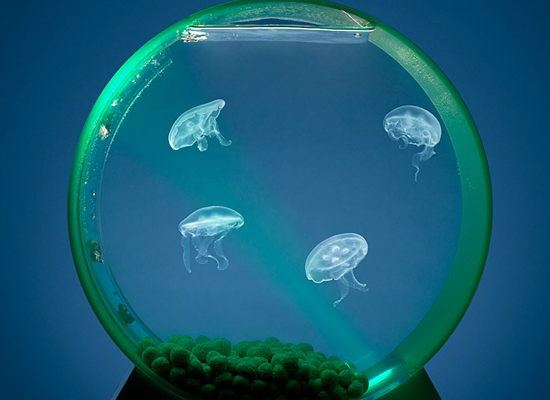 Jeff Turner, President
As president of Jellyfish Art, Jeff has used his extensive background in aquarium keeping to bring innovative and educational jellyfish aquariums to homes, offices, restaurants, and classrooms around the world. He has helped create some of the most amazing custom aquarium systems in this hemisphere, including the living coral reef aquarium at the Smithsonian Institution's National Museum of Natural History. Turner's family is steeped in the industry: his father was a pioneer in the aquarium trade both in south Florida and nationally, and his son, Joe Turner, is now general manager of Jellyfish Art. Since Jeff took over ownership of Jellyfish Art in 2013, the company has made significant upgrades to its jellyfish aquaculture operation to improve the quality and consistency of their moon jellyfish and significantly increase their lifespan. Jellyfish Art has also continued to reinvent the jellyfish aquarium having recently launched a successful Kickstarter campaign for their latest aquarium, the Jellyfish Cylinder Nano.
Joe Turner — General Manager
Joe Turner oversees the day-to-day workings of Jellyfish Art and conducts wholesale, online, and retail sales. His responsibilities include representing Jellyfish Art at trade shows, creating and managing accounts, logistics, web design, product design, and customer service. A fourth generation waterman and aquarist, Joe has been exploring the oceans, boating and diving around his hometown of Miami, Florida for over 15 years. By age 7, Joe was snorkeling with his family in the Florida Keys, sometimes even catching piggyback rides while his father, Jeff Turner, collected tropical fish and lobster.
Jon-Michael Degidio — Director of Aquaculture and Production
Jon-Michael has always had a passion for the ocean. From an early age, Jon-Michael spent a majority of his time by the seashore, fishing, diving, or just enjoying the breeze. Years later this passion pushed him to pursue two Bachelor of Science degrees from Florida Institute of Technology in Marine Biology and Aquaculture, and to go on to complete his Master's of Science degree at University of Florida in Fisheries and Aquatic Sciences. He has based his career on aquaculture of marine species and now focuses on culturing healthy and happy jellyfish for Jellyfish Art's customers. Jon-Michael also assists with marketing, educational initiatives, product development, and answering any customer's questions or concerns about Jellyfish Arts products that they may have.