A Dog is the Best Kind of Therapy
Robin speaks with The Weather Channel's Mike Bettes and AHA's National Director of Animal-Assisted Therapy Amy McCullough about 'The Search for The Weather Channel Therapy Dog.' Later she's joined by Leah Brewer, the owner of Elle the Pit Bull, the overall winner at the 2013 Hero Dog Awards to talk about the importance of therapy dogs.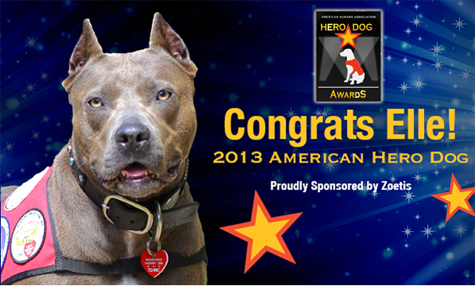 Mike Bettes
Mike Bettes is an award-winning meteorologist who can be seen weekday mornings on "Wake Up With Al" and as the co-anchor of "Morning Rush" on The Weather Channel®. No stranger to severe weather, he ha covered nearly every extreme weather event since he began at TWC in 2003. In 2009 to 2010, he was part of the largest tornado field experiment in history, Vortex 2, to help better understand this elusive phenomenon, and he is the lead field meteorologist during TWC's annual tornado season coverage, The Great Tornado Hunt.

Previously, Bettes was chief meteorologist for WLOS-TV in Asheville, NC. Earlier, he spent four years as weekend meteorologist for WSYX/WTTE in Columbus, Ohio, and one year as weekend meteorologist for WKEF in Dayton, Ohio.

During his career, Bettes has covered nearly every type of weather imaginable. He has been through blizzards and floods; reported live from the coast during Hurricanes Bonnie, Floyd, Katrina and Isabel; and has also chased tornadoes across the plains. In 2001 Bettes won an Emmy for his series on storm chasing on WSYX-TV in Columbus.

Bettes holds the American Meteorological Society and National Weather Association seals of approval. In his spare time, he likes to surf the Internet, watch college football and work out. Competing in triathlons is one of his passions. He has finished dozens of races and hopes to race in Ironman Hawaii one day soon. A native of Tallmadge, Ohio, Bettes earned a bachelor's degree in atmospheric science at Ohio State University.
Amy McCullough
Ms. McCullough's responsibilities encompass the development of American Humane Association's Animal-Assisted Therapy Program nationwide to offer training curricula for handlers and clinicians in specialized settings, such as children's health-care and military family settings; the development of research and outcome measurements for animal-assisted therapy; and the delivery of high-quality animal-assisted therapy services to national markets.
A licensed Animal-Assisted Therapy Instructor and Evaluator, Ms. McCullough regularly conducts handler trainings and evaluations for American Humane Association. She and her golden retrievers, Bailey and Beckett, have practiced animal-assisted therapy since 2002 in a variety of settings, including child welfare facilities, hospitals, rehabilitation centers, mental health centers and hospices. They currently provide animalassisted therapy sessions at Fisher House, a temporary housing facility for military families who are undergoing health-care treatment.
Ms. McCullough joined American Humane Association in 2007 to manage the day-to-day operations of one of the country's largest trained animal-handler volunteer workforces of more than 200 teams, ensuring service-delivery excellence to nearly 50 facilities, including child welfare, health-care, education and other settings.
Her most recent speaking engagements on the subject of animal-assisted therapy include the International Society of Anthrozoology Conference and the Eighth Annual International Congress on Animal-Assisted Therapy in Barcelona, Spain.
Ms. McCullough earned a degree in business administration from the University of South Dakota and graduated summa cum laude from Queens University in Charlotte, N.C., with a master's degree in organizational communication. Currently, she is a doctoral student at the University of Denver, working toward a Ph.D. in communication studies. Her area of focus is developing research to demonstrate the efficacy of animal-assisted therapy.
Prior to joining American Humane Association, Ms. McCullough worked as a marketing communications executive at Mercedes-Benz and had several years' experience at advertising agencies in Chicago and in Charlotte, N.C.