All About Animal Stars
Celebrating the release of her new book, Animal Stars: Behind the Scenes with Your Favorite Animal Actors, this week's show is all about Hollywood's animal actors. Up first is the husband-and-wife founders of the Angel Animals Network and co-authors of Animal Stars, Allen and Linda Anderson. Later in the show, Robin speaks with Hollywood animal trainer Christina Potter – whose dogs have made starring appearances in movies, television, and commercials – about what it's like to prepare an animal star for the role of a lifetime.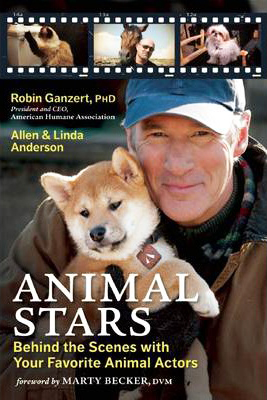 Allen and Linda Anderson
Allen and Linda Anderson are co-authors of a series of popular books, published in many languages, about the benefits of human-animal companionship, and co-founders of the Angel Animals Network. They have won recognition from the American Society of Journalists and Authors Outstanding Book Award program. They share their home in Minneapolis with a dog named Leaf, Cuddles the cat, and a cockatiel named Sunshine.
Christina Potter
Christina Potter works with the All Star Animals and Animals for Advertising agencies in New York and has been an animal-actor trainer since 2000. She was the animal trainer for the film Our Idiot Brother, which featured her golden retrievers Gable, Kelly, and Hudson. She is the author of a novel about life as an animal actor called Chester Gigolo: Diary of a Dog Star.