Do You Love Luxury? This Upscale Label from Italy is One to Watch
Fashion lovers like us are always looking for new things to excite! Inamorada, a wonderful label from Milan, Italy, does that and more. Meet founder & designer, Benedetta Sainaghi, and discover the gorgeous new pieces she's created and what inspires her to make them.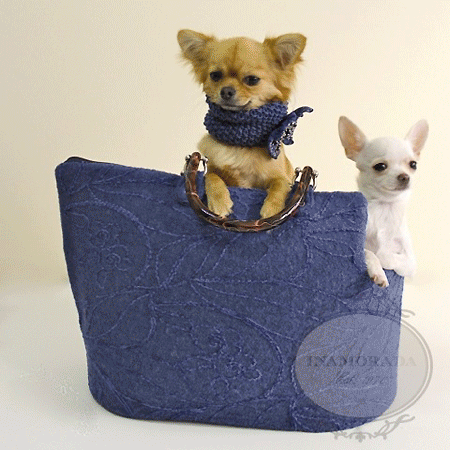 INAMORADA is born from a dream, to create a dream. INAMORADA dresses up very small dogs up to very large ones and create special models to suit dogs with a non-standard fitting, such as dachshunds, pugs, bulldogs and whippet/greyhounds.
Only the finest materials, the most luxurious fabrics and accessories become the precious haute couture by INAMORADA that materializes into a fine collection of timeless luxury, offering coats, imitation furs, raincoats and dresses, to complement the line of knitwear in cashmere and merino wool. Beautiful accessories like carriers, dog sofas and harnesses, collars and leashes complete the collection.

INAMORADA is not only a trademark. It is a way of life for those who want and choose only the best for their four paws little friends: it a project by who decided to give shape to a creativity, inspired by the unconditional love for beauty and dedicate to the most beautiful thing in the world: your own dog.

INAMORADA designs and manufactures its garments exclusively in Italy, thanks to the work of skilled craftsmen. This is why each garment is marked with a special label "all hand made in Italy", thus confirming the Italian origin of each stage of the production cycle and is accompanied by a special and exclusive packaging. Customized made to order items and numbered limited editions are the brand's price.

INAMORADA today is sold by the most exclusive pet boutiques in the world from New York to Moscow, from Sao Paulo to Osaka, from Paris to London, where the Collections are presented at Harrods.

Our muse is MORADA, who gives name to the brand, a sweet French bulldog aged five.