One of the Nation's Largest Cities Reaches Their No Kill Goal! Secrets from First Coast No More Homeless Pets!

Jacksonville, Florida, my hometown, is one of the nation's largest cities, and like other sprawling metropolises, shelters are loaded. How have they gone from 23,000 killed in shelters to Zero? - Starting 2014 with a no kill quarter! Smiley and I head back home to talk with the Man with the Vision and Founder of First Coast No More Homeless Pets, Rick DuCharme, along with Program Director and Florida Times Union Nominee for '10 Who Make a Difference' as 'the Hardest Working Person in Animal Welfare,' Cameron Moore. With Best Friends as mentors, a Prison Dog Program, and a city wide coalition working together they are getting it done! So, Listen to, celebrate and emulate their secrets of saving and placing pets! And if you're in town, come to their Mega Adoption and Super Smiley Flash Mob with us!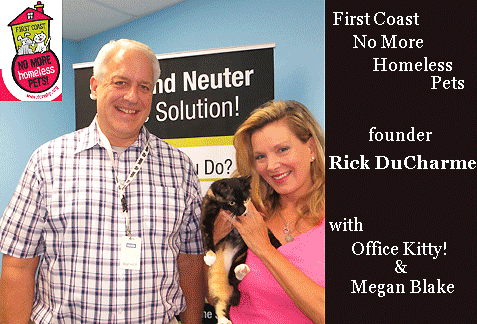 Rick DuCharme
As a child, Rick DuCharme would bring home any stray pets he came across. Together, he and his mother would bring the pets to the city shelter. One day, Rick's mother revealed to him that the pets they brought to the shelter may not have made it out alive. The seed for a life in animal welfare was planted.While working in the heavy equipment industry, Rick began volunteering at various animal shelters and rescues. For years, he observed and researched the issues surrounding homeless pets and became an advocate for an effective spay/neuter program in Jacksonville. Rick brought experience in sales, marketing, and management from his previous career when he was appointed to the "Mayor's Task Force for Animal Control" in 2001.With Best Friends Animal Society serving as his mentor, Rick founded First Coast No More Homeless Pets a year later with the mission to end the killing of dogs and cats. Many programs later, FCNMHP has helped reduced euthanasia rates in Jacksonville, Florida by an astounding 90%.Rick also consults with and mentors groups across the country to help the entire nation reach No Kill status by 2024.
Cameron Moore
Cameron Moore holds a Bachelor of Science degree in Public and Social Services from Kennesaw State College. Prior to entering the non-profit field, she served as the Marketing Specialist and Project Coordinator for the world's largest corporate real estate services company. There, she routinely handled large-scale projects and million-dollar transactions.In 2005, she founded Lucky Cat Adoptions, a non-profit cat rescue organization. Lucky Cat Adoptions has successfully found homes for over 3,500 cats in the Jacksonville area.Cameron joined FCNMHP in 2008, bringing with her the experience gained from both the large corporation and the smaller rescue organization. As Program Director, she oversees spay/neuter grants, as well as programs that target low-income families, zip code specific areas, and high-risk animals including pit bulls and feral cats. She also manages the FCNMHP cat adoption initiative