Meet Emmanuelle Vaugier! From 'Lost Girl,' 'CSI NY' and 'Two and a Half Men': On Dogs, Horses, Hero Dogs, and 'Susie's Hope'!

Emmanuelle Vaugier, the gorgeous actress from 'Lost Girl,' 'Smallville,' 'CSI NY' and 'Two and Half Men,' shares with us how animals are intimately intertwined in her busy international lifestyle. From her little poodle at Doggie Boot Camp and riding Equestrian Cross Country in Ireland, to judging at The American Humane Association Hero Dog AwardsTM and staring in the Animal Advocacy film, 'Susie's Hope,' this is a star powered show super packed with Emmanuelle's personal awesome animal adventures.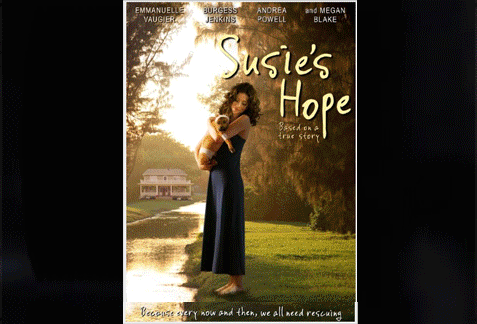 Talented and vivacious actress Emmanuelle Vaugier's performances continue to shine on television and movie screens around the world. Vaugier may be best known for her popular role as Charlie Sheen's ex-fiancée Mia on the award-winning CBS comedy "Two and a Half Men." For three seasons she also played Detective Jennifer Angell on "CSI: NY," leaving fans devastated when her role came to an end. In 2010, Vaugier was cast alongside Piper Perabo in the USA Network crime series "Covert Affairs," where she played the recurring role of Liza Hearn, a journalist and blogger not afraid to push boundaries.

Vaugier also appeared in a recurring role on the FOX action/drama series "Human Target," playing FBI Agent Emma Barnes. She also has a role on the innovative series "Lost Girl" which received the highest ever ratings for a premiere on Showcase. Among many other credits, Vaugier also appeared in an episode of "Hawaii Five-O" in an episode centered around her character, Erica Raines.

In the summer of 2011, Vaugier starred in the feature film "French Immersion," an ensemble comedy with Fred Ewanuick and produced and directed by Kevin Tierney. She also starred in a movie of the week, "Killer Mountain," with Aaron Douglas, as well as "The Haunting Hour" and "Bind" with Edward Furlong. Other television appearances include her guest roles on "Big Shots" and "Supernatural." She was also the new female superhero for the Sci Fi Channel television pilot of the comic "Painkiller Jane," and had a starring role in the "Master of Horror" series directed by John Carpenter. Vaugier's other television credits include "One Tree Hill," "Monk," the Fox series "North Shore," UPN's hit series "Veronica Mars," "Call Me, The Rise and Fall of Heidi Fleiss" and the WB comedy "My Guide to Becoming a Rock Star." She also portrayed Dr. Helen Bryce, Lex Luthor's wife, on the WB's hit drama "Smallville."

Vaugier's feature film endeavors are just as impressive. She can be seen in the thriller "Mirrors 2," a sequel to the 2008 horror hit "Mirrors" that starred Keifer Sutherland. Her appearance in the film adaptation of Stephen King's acclaimed short story "Dolan's Cadillac," starring Christian Slater, can now be seen on DVD. She most recently appeared in the feature "Where the Road meets the Sun" directed by acclaimed director and producer Mun Chee Yong. Her other credits include "Saw II," "Saw IV," "Hysteria" produced by former L.A. Laker Rick Fox, "Far Cry," "Bachelor Party 2," "Unearthed," "Secondhand Lions" with Michael Caine and Robert Duvall, "40 Days and 40 Nights" with Josh Hartnett, "House of the Dead 2: Dead Aim" and a lead role in the comedy "Blonde and Blonder," which premiered in Cannes.

Off-screen, Vaugier puts her time and energy into a project that is very close to her heart. An avid animal lover, she became involved with the charitable animal rescue organization Best Friends Animal Society, an organization aimed at animal rescue and rehabilitation, ensuring the best life possible for injured or unwanted animals.

Vaugier was among the select group of women on Maxim's 2006 Top 100 list and she was also named fifth on Femme Fatal magazine's 50 Sexiest Women on the Planet. She has graced the covers of Maxim, Femme Fatal, Dolce Vita, Flare, UMM, Status, Modern Dog, LA Health, Vancouver View, Vancouver Lifestyles, Western Living Condo, Donato and Infamous, just to name a few.

Vaugier was born in Vancouver, British Columbia, and grew up in a French-speaking household. She resides in Los Angeles with her two dogs Jack (maltipoo) and Bella (toy poodle), whom she flies between sets