Emmy-Winning Jane Lynch Co-Hosts FOX's 'Cause for Paws' All Star Television Spectacular!

The Spectacular Emmy-Winning Jane Lynch from Glee, Criminal Minds, and Best in Show joins us with the inside scoop on the Super Star-Studded Ground Breaking FOX Television Special, "Cause for Paws," co-hosted by Academy Award Winner Hilary Swank and Jane! A sea of A-List Pet Lovin' Star Power including Scarlett Johansson, Betty White and Sharon Osbourne are out in force showcasing the cutest dogs in the world – all up for adoption – on TV! With Jane Lynch! Now this is A Super Smiley Adventure!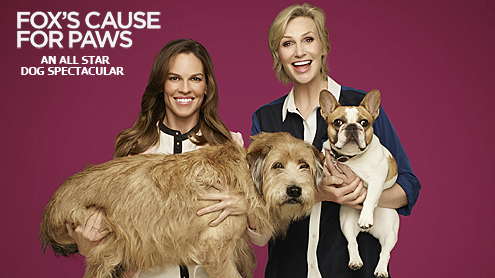 Jane Lynch is a Golden Globe and Emmy-Award winning film and television actress. She is best known for her role as Coach Sue Sylvester on the TV series Glee.
Jane Lynch was born on July 14, 1960, in Dolton, Illinois. In the 1990s, she made guest appearances on a number of TV sitcoms, including 3rd Rock from the Sun. In 2000, she appeared in the film Best in Show. In 2002, she landed a leading role on MDs. In 2005, she was in The 40-Year-Old Virgin, followed by the show Two and a Half Men. In 2009, she got her most famous role to date as Sue Sylvester on Glee.
Early Life
Actress Jane Lynch was born on July 14, 1960, in Dolton, Illinois. Raised outside of Chicago, she discovered her love for acting in the third grade while playing a candle in a school production.
In high school, Lynch participated in the choir. She loved singing and performing in school plays, but much of the time she preferred to keep a low profile. "I would step out occasionally and show what I had, and people would go, 'Wow, that's something.' And then I would kind of recede back," she explained to Time magazine. Socially, "I traveled within all the groups," Lynch explained to The New York Times. That "started that pattern of don't stay long enough for anyone to get to know you, to see the chinks in your armor."
After graduating high school, Lynch studied acting at Illinois State University. She then continued to hone her craft at Cornell University's graduate program for acting. "I think learning how to act is pretty important," Lynch later told Curve. "I have some techniques and skills I learned when I was 21 that have been hammered into my consciousness, that are now second nature."
After some time in New York, Lynch moved back to Illinois and immersed herself in the Chicago theater scene. She worked with such famous groups as the Steppenwolf Theatre Company and the Second City Touring Company. One of her most famous theatrical roles was playing TV mom Carol Brady in the underground sensation The Real Live Brady Bunch. Lynch enjoyed the experience, describing it as "a joy, it was a real gift and a lot of fun. Very little work. But I really learned how to nail the sitcom format and grew to love that," she told Curve magazine.
Mainstream Success
One of Lynch's first film roles was in the 1988 comedy Vice Versa with Judge Reinhold and Fred Savage. More small parts followed in such movies as Straight Talk and The Fugitive. On television, Lynch made guest appearances on a number of sitcoms, including 3rd Rock from the Sun and Married with Children.
She also did some voice-over and commercials. For one ad, Lynch worked with director Christopher Guest to create a cereal commercial. Months later, the two met up again by accident at a Beverly Hills restaurant, and he asked her to stop by his office. At the time, he was casting his spoof of the dog show world, Best in Show (2000). Lynch signed on to play Christy Cummings, a tough dog trainer who gets involved with a dog owner (played by Jennifer Coolidge). The actors in Guest's films work in an improvisational style. "They give us a really good thumbnail sketch, and then we just take it from there," Lynch explained to The Advocate. "We improvise all the dialogue; there's no written dialogue."
With the success of Best in Show, Lynch soon landed a leading role on television, playing a nurse in the 2002 medical drama MDs. The show only lasted for two months before being canceled. She also lent her voice to a recurring character on the animated comedy The Family Guy. Reuniting with Christopher Guest, Lynch appeared in the folk music comedy A Mighty Wind (2003) as a singer with a past in the adult film industry.
Big and Small Screen
While often tackling small parts, Lynch made the most out each role she took on. She made a number of memorable guest appearances on such shows as Arrested Development, Desperate Housewives, and Weeds. On the big screen, Lynch appeared as a raunchy store manager in The 40-Year-Old Virgin (2005) with Steve Carell, stealing nearly every scene she appeared in.
The following year, Lynch played the mother of a race car driver in the comedy Talladega Nights: The Ballad of Ricky Bobby starring Will Farrell. She also starred in her own sitcom, Lovespring International, which aired on the Lifetime television network. On the show, Lynch played the owner of a dating service. The series only lasted for 13 episodes.
Lynch had better luck with her recurring role on the popular dramatic series The L Word, which followed the lives of several gay women. On the show she played Joyce Wischnia, a tough lawyer who falls for her client (Cybill Shepherd) while handling her divorce. As a lesbian herself, Lynch especially admired how the series depicted life in the lesbian community. On the show, "we just tell stories about people. That's what I love about The L Word. No one's tortured over their sexuality; it's just accepted," she told The Advocate.
FOX's Cause For Paws
Emmy Award winner Jane Lynch (GLEE) is set to co-host FOX'S CAUSE FOR PAWS: AN ALL-STAR DOG SPECTACULAR (previously titled THE GREAT AMERICAN DOG-A-THON), alongside executive producer and co-host Hilary Swank, on Thanksgiving night, Thursday, Nov. 27 (8:00-10:00 PM ET/PT) on FOX. In addition, PEDIGREE® Food for Dogs will be presenting the "Shelter Hero of the Year" award, a special award honoring an individual who has dedicated his/her life to making sure shelter dogs receive the love, care and resources they need to find their forever home. During the two-hour special, viewers also will be provided with information regarding adoptable animals in their local areas and have the opportunity to make donations to the Petfinder Foundation, an independent nonprofit organization that supports shelters and rescue groups nationwide. Viewers can donate via a text number provided during the broadcast or online. Donations will be accepted during the broadcast and for a period of time after the show.

FOX'S CAUSE FOR PAWS: AN ALL-STAR DOG SPECTACULAR will include awards and celebrity presentations showcasing a variety of canine categories, including Cutest Puppy, Best Celebrity/Dog Lookalike, Funniest Dog, Most Talented Dog, Best Talking Dog and Best Viral Dog Video. Celebrities also will introduce the audience to rescue dogs, giving viewers the opportunity to foster or adopt a new best friend. Kristin Chenoweth, Whitney Cummings, Max Greenfield, Kathy Griffin, Julianne Hough, Randy Jackson, Cesar Millan, Jerry O'Connell, Kelly Osbourne, Sharon Osbourne, P!nk, Amber Riley, Rebecca Romijn, Emmy Rossum and Jenna Dewan Tatum join previously announced celebrities participating in the event, including Paula Abdul, Kristen Bell, Josh Duhamel, Fergie, Carrie Ann Inaba, Scarlett Johansson, Kesha, Miranda Lambert, LeAnn Rimes and Betty White. Also appearing are famous rescue canines The Olate Dogs, who will participate in an exclusive performance honoring all rescue dogs in need of adoption.

This special for the whole family will be a celebration of rescue dogs and the joy they bring to our lives. It will feature inspiring and funny stories of rescue dogs, honor the best viral videos starring rescue pups, include games featuring dogs and celebrity participants and feature stories honoring people who dedicate their lives to rescuing animals in need.

FOX'S CAUSE FOR PAWS: AN ALL-STAR DOG SPECTACULAR also will promote awareness of many dog-related issues and topics to encourage people to choose to adopt one of the more than eight million rescue animals currently in the U.S. shelter system, patiently waiting to become part of a loving family in a forever home. With millions of dogs left behind in animal shelters nationally, your new best friend could be waiting for you.